Talent Management Software Comparison
SelectHub is real people helping you find the best talent management system for your unique business needs while recognizing the true leaders who help make your decisions possible.
Products

Price Guide

Buyer's Guide
Talent Management Systems Buyer's Guide
Last updated on
July 21st, 2020
The Best Talent Management System Software Is All About Employee Progress
By Jeremy Ames, CEO, Hive Tech HR
The war for finding and keeping talent is raging, and most companies have realized that their greatest weapon might just be technology. Your competitor has already built their arsenal, and you've realized that yours is antiquated, insufficient or, worse yet, non-existent. You're missing out on the best recruits, and some of your best workers are leaving. It's time to turn the tide in your favor, but where to start?
You begin your search, and you're immediately stuck. What even is a talent management system? You're not alone in your confusion, which stems directly from the name itself. "Managing" your talent should happen from recruitment, throughout their employment and even beyond when they leave. In other words, the whole lifecycle.
Reality, however, has brought us a slightly different definition, removing functions like recruiting, payroll, benefits, pure employee data management and more. What we're left with are four commonly accepted pillars of what you're trying to do by "managing" your talent: attracting, developing, motivating and retaining.
Executive Summary
Talent management solutions help you find, hire and onboard the best candidates.
Once hired, continued education and reward systems advance your workforce.
A comprehensive talent management system is an all-inclusive solution for developing your team throughout the employee lifecycle.
Benefits
Talent management involves shaping your workforce into the most highly-qualified team possible, both individually and on a grander scale. With the help ofsoftware, your business can begin this process in depth.
At the core, talent management solutions are meant to streamline standard personnel-related procedures such as recruiting, onboarding, learning management, reward programs and retention. The advanced software of today goes beyond this base functionality with features that assist companies and their employees with goal setting and planning.
Again, the main benefit of implementing software is progression. For businesses, this means being prepared for all staff changes and having the best tools to respond to those shifts. Improving your workforce is an added plus of using the best talent management software. Employees benefit from these development features as well, in addition to using the software for career planning.
Talent Management Report
Expert recommendations and analysis of the top software
Implementation Goals
Goal 1

Attracting Highly Qualified Candidates

With the help of software, create a simplified, guided candidate experience. Actively and proactively find the best talent by conveying a company culture candidates will want to join. Talent management solutions streamline the interview process by matching on job fit and other success criteria, incorporating newer technology like video interviewing, encouraging internal collaboration and comfortably transitioning the individual from "candidate" to "team member."

Goal 2

Developing Employee Skill Sets

Talent management systems deliver functionality that tracks learning needs and encourages, measures and manages employee performance to foster and promote development. Development features include career planning, focus on leadership development and adequately facilitating succession planning.

Goal 3

Motivating Your Workforce

Properly connect your compensation management to achievement and offer rewards and recognition to drive employee performance.

Goal 4

Retaining Top Talent

Retain your best employees with software that encourages employee growth. In the event you can't retain them, a talent management solution should provide smooth offboarding functionality as well as a path back to the talent pipeline.
Talent Management Software Report
Expert recommendations and analysis of the top software
Basic Features & Functionality
| | |
| --- | --- |
| Recruiting | Recruiting tools help you attract top talent through multiple recruitment channels, including job boards, social media and your business's website. |
| Applicant Tracking | Throughout the application process, an applicant tracking system (ATS) will monitor candidate progress from resume submission to interview. An ATS helps you organize potential employees as they move forward. |
| Onboarding | Once a new employee is hired, a streamlined onboarding process is essential. A comprehensive talent management system ensures new hires are properly brought on to the team, complete with the necessary paperwork. |
| Employee Lifecycle Management | Lifecycle management features guide employee progress throughout their time at a company, from recruitment to eventual retirement, job change or termination. This includes documentation and other formal processes. |
| Learning Management | Build lesson plans to develop employee skill sets and offer continued education as processes evolve. |
| Performance Management | Utilize key performance indicators (KPI) to track employee performance and provide real-time feedback. |
Talent Management Software Report
Expert recommendations and analysis of the top software
Advanced Features to Consider
| | |
| --- | --- |
| Career Management | Give employees the tools to work toward their career goals through resume maintenance, training and path planning. |
| Succession Management | Construct a plan for succession so you are prepared in the event of departures. Identify the best employees at your company to promote to open positions, and subsequently fill any resulting vacancies. |
| Compensation Management | Manage payment and create strategies for issuing bonuses, shares, overtime and commission. |
| Leadership Development | Train employees to progress into leadership roles, raising the skill level of your workforce and preparing for promotions in the process. |
Talent Management Software Report
Expert recommendations and analysis of the best software
Talent Management Software Comparison
Combining what you want with what's possible, you have one very key decision to make. How wide or narrow should your software be? For example, your learning management requirements may not be met by a core HRM suite or talent management software. You may need to separate that into its own product search.
You need to think about how the best software vendors fit into your roadmap, and beyond that, how your roadmap fits with overall HCM goals. You want vendors to talk to you about how they'd see their product "fitting in" with your overall HCM ecosystem. Talk about your current state and the vision for your future state. For example, if you're talking with companies that harp on integrations, have them talk to you specifically about how they'd help you get those integrations up and running during implementation.
Questions to Ask Yourself
What processes do you currently have in place for talent management?
What's wrong with your current software (if you have one)?
If your business doesn't currently use talent management software, why are you interested in adopting a system?
Which features are most important to your organization?
Will your current infrastructure be responsive to software adoption? If not, what changes should be made in preparation?
What budget and time constraints do you have?
Questions to Ask Vendors
What support services do you offer?
Do you assist in implementation?
Do your talent management solutions have mobile capabilities?
Does the software include analytics functions?
Is a core HR base included in the platform?
Is the software scalable?
Talent Management Software Report
Expert recommendations and analysis of the top software
Related Content
About the Author
Jeremy Ames is CEO of Hive Tech HR. He has worked as a director, consultant, software implementer, and international businessman for several companies, including being the former CFO on the Board of Directors of IHRIM and member of the SHRM HR Technology and Management Expertise Panel. Outside of work, Jeremy is a shortstop, fictional writer, and father, among other roles and interests. He enjoys satisfying client needs, closing deals, writing, long walks on a Cape Cod beach at sunset with the waves lapping at the shore, and humor.
Disclaimer: The author did not create nor is he responsible for the content of the leaderboard, nor does he explicitly endorse the ranking order.
90 Products found for
Talent Management Systems
Our experts can help you shortlist the best software options for your organization's unique needs.
Call SelectHub for a
free 15-minute selection analysis:
1-855-850-3850
Pricing & Cost Guide
See the Price/User for the top talent management software system… plus the most important considerations and questions to ask when shopping.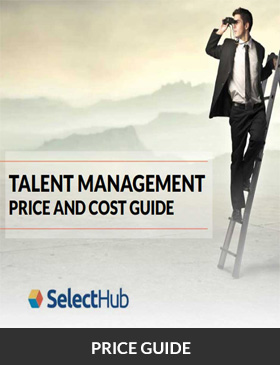 Real People... with Data
We know selecting software can be overwhelming. You have a lot on the line and we want you to make your project a success, avoiding the pitfalls we see far too often.
As you get started with us, whether it be with Software Requirements templates, Comparing, Shortlisting Vendors or obtaining that elusive Pricing you need; know that we are here for you.
Our Market Research Analysts will take calls, and in 10 minutes, take your basic requirements and recommend you a shortlist to start with.