Best Recruiting Software Comparison
SelectHub is real people helping you find the best recruiting software for your unique business needs while recognizing the top leaders who help make your decisions possible.
Products

Price Guide

Buyer's Guide
Recruitment Software Buyer's Guide
Last updated on
July 21st, 2020
The Best Recruiting Software is All About Finding the Best Talent
By Mariah Hansen, Market Research Associate
The days of combing the classified ads are long gone. Job seekers no longer take to the newspaper with a pen and highlighter to look for a posting that might be of interest. Now, applicants take to the internet and quickly search for relevant job postings. Businesses are jumping on the search engine bandwagon — and they're using top recruiting software to do it.
Recruitment software helps to streamline the process of posting jobs, sifting through applications, interviewing and finally offering the position. The recruiting process can be incredibly time-consuming, especially once the position is posted online and the applications begin to come in waves.
Once you've adopted the right system for your business, you'll be able to fill open positions within your business with ease. Unfortunately, finding the right system can be challenging. There are mountains of recruiting products to sift through in order to find the right one and deciding which peak to climb first can feel overwhelming. This guide will show you the route to the summit, and eliminate some of the stress of software shopping.
Executive Summary
Recruiting streamlines the hiring process from start to finish — and everything in between.
A product helps you to find better candidates to fill your open positions.
Conducting a thorough comparison will help you determine which recruitment software is right for your business, and we have a guide that can help you conduct that comparison.
Knowing what you need from a system will guide the types of questions you should ask companies about their software.
Benefits
People are an organization's most important resource and have the most direct impact on a company's bottom line. This fact promotes the importance of human resource management (HRM) in all businesses and justifies directing the necessary resources to this vital business area.
No one likes running a business short staffed. Unfortunately, the process of filling those open positions with qualified candidates can easily become a full-time job. Some companies choose to outsource that job to an external recruiter, or even designate recruitment to someone in-house without realizing that there's another option — recruiting software.
Some of the more prominent benefits of implementing recruitment software are those that automate recruiting tasks that typically hinder the effectiveness of the recruitment process. Tasks like selecting candidates and managing job offers can be automated, helping to make your life easier. Introducing e-recruitment strategies will save you time and effort, but more importantly, will give you the same technical advantages that all businesses can benefit from.
Recruitment encompasses sourcing and screening candidates, scheduling interviews, analyzing candidate competencies and finally selecting the right hire. Today, recruitment is tightly integrated with onboarding — the process by which new hires are welcomed and integrated into the organization through a series of administrative, learning and development techniques. All in all, it's a lot more work than it appears.
Corporate job postings average 250 resume submissions. That's a lot of reading just to find candidates that have the skills you're looking for. Fortunately, that's a job that you can leave to the system. Recruiting software is able to pre-screen and analyze candidates so you only have to worry about the ones that have the skills and experience you're looking for.
The recruitment processes, like so many functions in business today, benefit greatly from specialized technology designed to automate aspects of the process. Dealing with a large number of personnel records and transactional data are examples of tasks that can be easily automated and provide exponential benefits.
Having software to complete these tedious tasks will not only increase your efficiency and productivity but will also benefit the applicants who respond to your job posting. The interview process is the first interaction prospective employees will have with your business. Recruiting products are able to quickly sift through applications and find you the best candidates so you can reach out to them quickly. That kind of efficiency reflects well on your business — and gives you a better chance of offering the right applicant the job before they get another offer.
Recruitment software streamlines the whole process and can even make it better. Some systems are able to help you step up your job posting game by writing more engaging postings — which will bring in more skilled applicants. The system will also work for you after office hours end. This means when you come back into the office Monday morning, you'll start your morning with the fresh candidates your software sifted through while you relaxed over the weekend.
Recruiting Software Report
Expert recommendations and analysis for the top recruitment software
Implementation Goals
The overall goal you aim to accomplish by implementing any of the best recruitment software will likely be to hire new employees so your organization runs smoothly. However, just like reaching the peak of Mt. Everest, you'll need both an overview of what you where your final destination is as well as the mile marks you need to hit to make sure you reach the summit.
Goal 1

Maximize Reach of Job Postings

Finding good applicants is like searching for a needle in a haystack. Nearly three-quarters of employers are struggling to find applicants with relevant skills. By casting a wider net, you'll catch more fish, meaning you'll be more likely to find a candidate with the skills you're looking for.

Recruitment software can help you manage your job postings, and be sure that they're posted in places that applicants will be looking. With finding qualified candidates being such a challenge, having software to help you clear the hurdles can be invaluable.

Goal 2

Prioritize Candidates With Desired Skills

Nothing is worse than applying for a job and then waiting a month to get called for an interview. In fact, 69 percent of applicants say that employer response time is the number one part of the hiring process that needs improvement. For the applicants with the skills you're looking for, waiting too long to respond could mean you lose them to another offer before you even get a chance to speak with them.

You'll want a solution that can take care of the time-consuming tasks like reading applications so that you can quickly see who the best applicants are. This means you'll be responding faster which will make you far more appealing to prospective employees.

Goal 3

Streamline Recruiting Process

On average, it takes 27 days to hire a new employee. That's a long time to focus on finding someone to fill that open position. Wouldn't it be nice if you could automate some of the tasks involved in that process to make your life a bit easier?

You'll want a system that can help you to streamline the hiring process from start to finish by eliminating some of the menial tasks involved with recruiting. While there will still be tasks that cannot be completely automated, automating the jobs you can make the process much smoother.
Recruitment Software Report
Expert recommendations and analysis on the top recruiting software
Core Features
Most solutions will have similar capabilities to help you accomplish your objectives. Despite the similarity in capabilities, not all systems are created equal. While some systems will demonstrate strengths among some features, they'll have weaknesses in others — and that will vary from solution to solution. You'll want to have a thorough understanding of what the possibilities are when implementing a recruiting product so that you know which features are a priority when you begin your search.
Recruitment Process management

Climbing the recruitment mountain is arduous. You'll need supplies, a good map of the trail and the proper time allotted for your ascent. A recruitment process management feature will guide you every step of the way.

Some of the specific features that will help you along the way include helping you request approval for adding a new position and building the job description. There are also features to assist when it comes time to offer an applicant the job and send email notifications to the relevant individuals as needed.

This feature will provide you with help and guidance every step of the way — acting as your guide to the summit.

Job Posting

If no one knows that you have an open position, then you won't get any applicants looking to fill the spot. Clearly, posting the position is a vital step in the recruitment process. Job posting capabilities can help you craft your posting.

This feature helps you post to multiple job sites with ease. This will allow you to maximize your ability to find qualified candidates, who may be searching for jobs at various online destinations. With more applicants to choose from you'll have better odds of finding the perfect candidate for the job.

Applicant Tracking System (ATS)

More applicants increase your chances of finding a highly qualified candidate to fill your position. The downside of many applications is sifting through all of them to find that skilled candidate. An applicant tracking system can help sift through all of those applications for you.Tracking allows you to preset your specific qualifications, and the system will automatically disqualify candidates that don't check your boxes. Then you'll only have to worry about legitimate candidates with the skills you need.

Candidate/Employee Management

Once you've added a new member to your team, you'll need to bring them up to speed. Candidate and employee management features can help with the onboarding process, as well as ensuring that you have all of the proper documents needed to get your new teammate in the door.

All of the paperwork tasks of hiring take away from the time you need to set your new teammate up for success. The more of these tasks that software can help with — like checking references — the more face time you will have with your newly hired employee. That will leave you with plenty of time to focus on the more important and time-consuming tasks of growing your team like training and answering their questions.
Recruiting Software Report
Expert recommendations and analysis on the best recruitment software
Additional Features
Resume Management

Resumes give an overview of each applicant who's interested in your open position — and if a lot of people are interested in your position, then you'll have a lot of resumes to sift through. A resume management feature will store all of that information neatly in one place.

Most software allows applicants to log into the system to upload their resume as part of their application — giving you easy access to it. This also allows applicants to see what the status of their application is, so they never have to wonder how far along in the process they are.

Career Portal Development

Many systems allow you to create your own in-house career portal. This will allow users to log in and see what positions are available, making it easy for your current employees to apply for open positions within the company if they're ready for a lateral move or even a promotion. It will also allow new candidates to search within the organization for specific openings if they're interested in working for your company specifically.

Reporting & Analytics

Analytic data is beginning to play an increasingly more important role in business as companies work to improve their processes. Most systems can help you to gather data and develop reports that will show you what works well and what doesn't when it comes to your recruiting processes.

When the time comes to reform your recruiting practices, you'll have data to show what specific practices aren't working. Not only will this information help show you which procedures you need to keep in place but it will also help you evaluate your recruiting team members and in what areas they really shine.
Recruitment Software Report
Expert recommendations and analysis on the best recruiting software
Recruiting Software Comparisons
The hunt for the best recruitment software can be arduous. There's a multitude of products to sift through in order to find the right products. You're going to need to tackle the challenge head-on, and the best way to do that is to conduct a comparison. When it comes to software selection some principles never change: you need a software that best fits your company's unique circumstances, needs and values. Once you've determined what those needs are, then you can begin assessing which software will be able to do the job you're asking it to.
The selection of recruitment software, like any sound software selection process, must begin with a close examination of your company's unique recruiting needs. A fluid process that incorporates input from all end users and stakeholders regarding which functionality is helpful to drive this process to a successful end is best. Even if you know what features you're looking for, conducting an analysis to compare recruitment software can still feel like being lost alone in the wilderness. But not to fear, we would never feed you to the wolves. Our in-depth recruiting software comparison report will not only give you the data but also break it down so you know exactly what it all means.
Questions to Ask Yourself
What's your timeframe for implementing a recruiting solution?
You'll want to be sure that there are no surprises when it comes time to implement your new software. Whether you need to utilize your software quickly or have some wiggle room before you'll need to implement the solution fully, you'll want to have a solid plan for when your new system will be fully up and running.
This will also mean taking into account the time it will take to integrate your new solution with existing systems. You'll also want to be able to plan time for your HR managers to learn how to use the new system. All of these factors will affect your implementation plan, and as such, you'll want to have a good idea of when you'll be able to use your new system to its fullest ability.
Does your business primarily function with permanent staff? Or does it rely primarily on temporary workers?
In both cases, you will need to find quality hires — personnel with the right skills, knowledge, and abilities are essential to create and maintain your company's reputation for quality in both products and service.
Finding recruitment software companies that align all those functions important to you and your business strategy is, at this stage, your most important task. Look for technology that you find adaptable and easy to implement and work with. But ensure that your recruitment vision is achievable and reinforced by the software.
If you consider that this recruiting platform will form the basis for your recruitment strategy, a little more time and effort will be rewarded at the end of the process.
What kind of deployment do you need?
Your priorities and preferences will determine what type of system you want. A cloud-based system will offer greater security while an on-premise solution may give you greater control over its implementation. You may also need the option of mobile deployment if you often find yourself away from your computer.
Recruiting Software Report
Expert recommendations and analysis on the top Recruiting Software
Questions to Ask Companies
Is the company planning for the future in terms of features and functionalities?
You'll want to be sure that the vendor has a game plan for what's coming in the future. As technology advances, you'll want to be sure that your software can keep up. Look for a company who is aware of that need and actively supports software updates so that your solution will stand the test of time.
What integration options does the company support?
In the modern age, many tasks can be done by software. The more software you use, the more you'll want to be able to integrate your systems. This will allow you to gather greater amounts of data for analysis. It will also allow you to make sure you're maximizing the benefits of your software systems by ensuring they're doing as much of the heavy lifting as they can.
Does the company offer a trial run of the software?
If you've never used a recruiting platform, you'll want to know what you're getting yourself into. Many companies will offer a live demo or even a free trial for you to use the software. Seeing the software in action will give you a better understanding of if the software will meet your business needs.
Related Content
75 Products found for
Recruitment Software
Our experts can help you shortlist the best software options for your organization's unique needs.
Call SelectHub for a
free 15-minute selection analysis:
1-855-850-3850
Pricing & Cost Guide
See the Price/User for the top recruiting software… plus the most important considerations and questions to ask when shopping.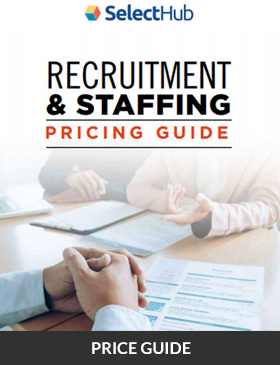 Real People... with Data
We know selecting software can be overwhelming. You have a lot on the line and we want you to make your project a success, avoiding the pitfalls we see far too often.
As you get started with us, whether it be with Software Requirements templates, Comparing, Shortlisting Vendors or obtaining that elusive Pricing you need; know that we are here for you.
Our Market Research Analysts will take calls, and in 10 minutes, take your basic requirements and recommend you a shortlist to start with.