Project Management Software Systems Comparison
SelectHub is real people helping you find the best project management software system for your unique business needs while recognizing the leading vendors who help make your decisions possible.
Products

Price Guide

Buyer's Guide
Project Management Software Buyer's Guide
Last updated on
October 1st, 2020
The Best Project Management Software is All About Effective Organization
By Kim O'Shaughnessy, Market Research Associate, with Contributions from Antonio Nieto-Rodriguez, Champion in PM
Whether you're working on a client's website or putting a shuttle into space, every project needs to be closely managed. Project management software puts managers in control of, and in contact with, their teams and progress status at all times. Because you know you can't just get it done — you need to get it done right.
Executive Summary
Top project management systems were created to help businesses organize their plans and gain project visibility.
In order to meet the goals of numerous projects, businesses will need to have a clear strategy and prioritization process.
Most software products have a standard set of features, but there are also features which enable thorough customization.
Once you've shortlisted several companies, it's imperative to perform a rigorous comparison of the features, support and pricing plans they offer.
When choosing a vendor, make sure you're prepared with a standard list of questions that will help you determine which is a fit for your team.
Benefits
This type of software is used by organizations that invest a significant amount of resources into the projects they carry out. Typically, projects require the work of transversal teams and, as such, project management systems are built to facilitate communication through all phases of the project, from conceptualization to realization to closing. This boost in communication is one of the ways software helps overcome project-specific challenges.
Software keeps your business organized throughout the project lifecycle.
Speaking of challenges, one of the most difficult parts is handling the various factors that influence the success of a project. These include benefits, resource allocation, collaboration, scope, project size, timelines, cost, quality, risk and client considerations.
To help overcome these challenges, tools are built to provide project visibility, facilitate communication and optimize task management. Different software may accomplish these purposes in different ways, depending on the specific needs of the business. Many products allow users to customize the software to achieve the style most suited for the tasks at hand.
Project Management Software Report
Expert recommendations and analysis on the top software
Implementation Goals
Most businesses looking to implement a project management system share a few common goals. Make sure your business objectives align with the goals we've listed below. If not, you may be looking for something different like a PSA system or even an ERP.
Goal 1

Improve Progress Visibility

The first thing project management platforms provide is visibility into the progress of your projects. Because this type of software allows users to manage tasks on a granular level, it can also show exactly where in the process the project is at. Easy access to the project status ensures a continuous flow of work or immediate attention to bottlenecks. With any of the best software, you won't have to rely on email alone to make sure all team members are on task.

Goal 2

Standardize Processes

When you find a method that yields results, you'll want to stick with it. Project management systems make workflow standardization a piece of cake with pre-built and customizable processes and templates, normally drawn from universal best practices such as the PMBOK from the Project Management Institute. This way, your team never misses a crucial step during a project. This is made even simpler with task dependencies and notifications, which you will read more about in the features and functionality section.

And although standardization is a major benefit, management allows for customization of processes as well. Templates and task lists can be edited, added to or deleted depending on the needs of a project. There are also several tools dedicated to customizing your project management platform.

Goal 3

Increase Resource Visibility

Just because your organization might perform a service as opposed to producing a good, it doesn't mean you can't track your resource usage. Project management software allows users to log time worked and may even perform this automatically. This allows project managers to understand which team members can take on more work and which ones are overloaded and probably need a break. Software lets you see a breakdown of the work each team member has accomplished and the work planned. This helps all users understand what is expected of them and who they should turn to for questions on particular tasks.

Goal 4

Improve Collaboration and Communication

PM software provides a high level of project visibility that breaks down the silos in the workplace. Access to real-time project data helps team members collaborate, even when working on individual tasks.

Additionally, tools offer a collaborative space for users to work together, making it much easier to communicate than using email and spreadsheets. Software also allows your client to add their input via these same collaborative spaces.
Project Management Software Report
Expert recommendations and analysis on the top software
Basic Features and Functionality
Every project management solution should contain a baseline of capabilities, regardless of the industry or company size it serves. Here are some standard features most project management systems offer:
Define and Describe Projects
The ability to define and describe projects is standard across all software. A simple yet essential tool, this feature often is provided as a text field in which users can type their own descriptions and titles of projects. It provides a systematic way to define the business case or the project, calculating its financial return. Users can organize descriptions of projects using tabs to quickly access things like project issues, scope, processes, deliverables, etc. Users may also add custom fields for specific information or to add links.
Project Templates

Project management software offers pre-built and custom templates, including work breakdown structures (WBS) and project plans. Many software products offer both, but some software may only provide one or the other. Additionally, software typically offer templates for a variety of industries and departments such as HR, finance or IT project management.

Templates can also be methodology-specific to suit Agile, Scrum, Waterfall, Kanban and more. Templates make it so users don't have to enter in the same tasks every time a project is created. Many tools are configurable so you can make adjustments to your templates as needed. This is helpful if you offer several services, as you can include them all in the template and remove tasks based on what your client is asking for.

Task Creation
Software provides a level of organization not as easily achieved without it. One of the biggest contributors to this organization is the ability to create tasks from the scope and work breakdown structure. Task creation provides a simple way to track project progress and lets users know what to do next. In addition to tasks, users can create sub-tasks to keep smaller assignments grouped with the larger work it contributes to. Users can set due dates, milestones, priority levels, flags and reminders for tasks. These can also be automated through configuring business rules for different types of projects.
Task Dependencies

In addition to task creation, project management platforms allow users to set up tasks that are dependent on other tasks, both within the project and outside the project (with other activities or projects). For instance, after completing the tasks associated with onboarding a client, the project management platform might then prompt the user with the next set of tasks related to the client. Task dependencies allow a project manager to go in and identify bottlenecks and work to resolve the issues. It also helps keep the different teams working on the same project from dropping the ball or working on tasks too early.

Task dependencies can be simple or complex as well as internal or external, depending on your needs. Project management solutions also support circular dependencies for projects that need to be repeated once complete.

Reports and Dashboards

Software not only allows users to work and store their information but also provides visual reports on their status and progress. Advanced tools offer many types of visualizations, including pie charts, column graphs, line charts, workflow diagrams, Gantt charts and more. Simpler software may not offer as many types of visualizations, but should still provide a summary of your projects' statuses. Software with project portfolio management (PPM) capabilities can also show you reports that provide insight into your larger business objectives.

These reports may include data on a number of things, such as billable and non-billable hours, scheduled time vs actual time, unfinished tasks, on-time milestones, benefits achieved, identified risks and more. Reports help give project managers and project executives a better idea of how his or her team is performing and where improvement is needed. Additionally, reports supply insight into how busy your team members are, allowing you to balance the workload equally across staff.

Users and Roles

The users and roles feature restricts what information and permissions each user has access to. For instance, you might encourage your clients to sign up for an account within your project management platform. However, you wouldn't want them seeing project timelines or resource allocation, especially if you're not completely on target. But you would want them to access messages with client-facing staff and you may also wish to give them access to upload files such as logos or diagrams.

This is useful for teams within your company as well. Maybe you don't want team members comparing hours worked. Or you have freelance employees and you don't want them to see data on projects outside of what they're hired for. Whatever your reasons, this feature helps your project continue to run smoothly giving all parties the information they need to know.
Project Management Software Report
Expert recommendations and analysis on the top software
Advanced Features for Further Customization
These next features allow administrators to fully customize their project management solution. These features are necessities when it comes to defining your workflows to suit specific business needs.
Webhooks

Webhooks provide a way for project managers to further customize their software. This feature is configured through an API and gives users real-time data on events through push notifications. Without webhooks, users need to request the data manually. This is a very inefficient way to work on a project, especially if the user relies on data from many sources.

Webhooks also allow users to use other applications in tandem with their software. Configure notifications to be sent through email or other messaging services. You may also use webhooks to send data to third-party applications to increase the number of tools you can work with for a specific project.

Custom Fields

Custom fields are a way for users to enter data into the software that may not fit elsewhere. For instance, project managers may use this feature to create a customizable checkbox field to indicate project status. There are also several other types fields so users can enter a number of different information such as dates, currency, department and more.

Moreover, custom fields allow your data to be incorporated into reports and analytics. To return to our earlier example, a custom field created to indicate project status then allows this status to be seen on a user's dashboard if they wish. Custom fields used to enter in currencies can be used in analytics to indicate trends in costs. Ultimately, this feature can be used in a multitude of ways to customize the type of information you receive from your project management solution.

Risk Management

Risk management is a feature of PPM, but can often be found in popular software products. This is because risk management is a vital element in successful projects. As such, you'll want to make sure your project management solution can provide the visibility required for proper assessment of potential risks and mitigation actions. You'll need to be able to track all aspects of the project and identify where risks may hinder your progress. Project risks might include conflicts of interest, going over cost, employee turnover, unrealistic client expectations and more. Therefore, it's important that your project management system can provide insights into these types of risks.

Some software allow users to create a fully detailed risk management plan using pre-made templates. Others may simply allow you to enter a risk management plan into a notebook (see below) but may provide you with the visibility to create a comprehensive plan.

Notebooks
This feature refers to the ability to write and collaborate on formatted content within your project management solution. This may include summaries of meetings, additional project information and wikis. Notebooks allow users to keep track of information surrounding a project and create a single source of information. Notes taken with notebooks can be shared and may include photos. Project managers may choose to restrict notebooks from certain groups of users if the information is private or sensitive.
Project Management Software Report
Expert recommendations and analysis on the top software
Compare Project Management Software Vendors
Although many PM software are customizable, it's still important to find the software that best suits your needs. This is especially true if your software needs to support a particular discipline. For instance, not every product supports a Kanban view of tasks, which many organizations rely on. In order to get the right software for your operations, it's important to do a full comparison of the software you're thinking about implementing.
Our in-depth comparison report rates top PM software vendors across nearly 30 features. It allows buyers to see which vendors rate better for features like resource utilization charts, file storage, custom templates, overall capability and more. However, you decide to compare software leaders, make sure you and your stakeholders completely understand how your options stack up.
Questions to Ask Potential Vendors
After doing so much research on potential vendors, you might be tempted to sit back during software demos and conversations with vendors. Nevertheless, this stage in software selection is the best time to get clarification and ask questions.
What is your pricing model?
If this information isn't available on the vendor's website, you'll definitely want to ask this question. Project management solutions often offer different pricing models depending on the needs of your company. They might consider factors like the number of projects, number of users, file storage needs and training. You should also ask if you'll be expected to pay monthly or annually.
How long will implementation take?
Depending on how many clients you have and the complexity of your processes, the length of implementation can vary. Make sure to give yourself plenty of time to identify your needs and properly implement the new software. Additionally, watch out for project management software companies offering timelines that seem too good to be true. Make sure you also ask what the specifics are on the process for transferring data from your old software to the new one. This will help you better imagine what effect implementation could have on your daily processes.
Simple project management systems can act as a virtual bulletin board, auditing movement of tasks and projects.
Is your software complex/simple enough for my organization?
The complexity of software differs greatly across vendors and pricing plans. In addition to asking about the overall complexity, be sure to ask which specific features are offered. This will help you better judge the software. If all you're looking for is a Kanban drag-and-drop interface, don't feel pressured to buy an oversized product. Conversely, if you're looking for in-depth analytics to help your company grow, make sure your next software product captures all the details you're looking for insight on.
What types of organizations do you have experience with?
The ability to customize your project management solution will be a big factor in how well it performs for your unique business. However, it's still good to know if organizations similar to yours have had success with a particular software. You may want to find out how many organizations like yours have failed during their implementation as well.
Is your software easy to use?
Depending on your organization, you may have several different teams working in the software. Probably not every team member is going to be a whiz at operating the software, but will still need to use the product on a daily basis. If you have clients working in the product, you'll need it to be intuitive enough for them as well.
What kind of training and support do you offer?
This is a big one, especially if you need a product with many features and customizations. Make sure your vendor offers the type of support you'll need, whether it's email, phone or in-person training sessions. Ask if there's ongoing support and if it's included in your pricing plan.
Project Management Software Report
Expert recommendations and analysis on the top software
Final Thoughts
Implementing any of the top PM software is an excellent way to improve the way your organization does business and develops future offerings. But choosing the correct system is no easy endeavor. Therefore, it's essential to invest the proper time and effort into researching and contacting your final list of vendors. Let this guide be the jumping off point for your software selection journey.
Related Content
71 Products found for
Project Management Software
Our experts can help you shortlist the best software options for your organization's unique needs.
Call SelectHub for a
free 15-minute selection analysis:
1-855-850-3850
Pricing & Cost Guide
See the Price/User for the top project management software… plus the most important considerations and questions to ask when shopping.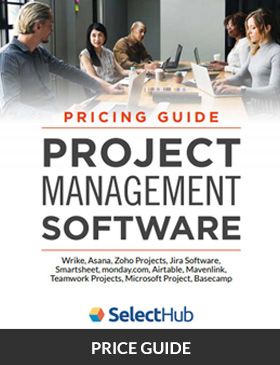 Real People... with Data
We know selecting software can be overwhelming. You have a lot on the line and we want you to make your project a success, avoiding the pitfalls we see far too often.
As you get started with us, whether it be with Software Requirements templates, Comparing, Shortlisting Vendors or obtaining that elusive Pricing you need; know that we are here for you.
Our Market Research Analysts will take calls, and in 10 minutes, take your basic requirements and recommend you a shortlist to start with.