Medical Practice Management Software Comparison
SelectHub is real people helping you find the best Medical Practice Management software for your unique business needs while recognizing the true medical practice software solution leaders who help make your decisions possible.
Products

Price Guide

Buyer's Guide
Medical Practice Management Software Buyer's Guide
Last updated on
July 21st, 2020
The Best Medical Practice Management Software is All About Centralization
By: Bergen Adair, Market Research Associate
Medical practitioners and staff want to spend their days healing the sick and the injured — not filling out forms, scheduling patients or worrying about billing. Medical practice management software (aka practice management or PM) is the foundation on which a successful medical practice is built. Without accurate billing, scheduling, reminders and outreach functionality, a healthcare facility cannot run at maximum efficiency or successfully treat a full population of patients. In the most recent iterations of practice management applications, vendors have expanded functionalities to offer a complete suite of everything a medical practice needs in a single system.
Executive Summary
Medical practice management software combines scheduling, charting and billing in a single interface
PM helps reduce physician burnout and manage population health
The basic features to look for in a PM solution are EHR/EMR integration, scheduling, billing and population health management
Choosing the right PM system for your practice involves requirements gathering, peer review, shortlisting and vetting
Benefits of Medical Practice Management Software
The best practice management software will help medical practices manage their time and patient flow in an orderly manner. By combining scheduling, charting and billing functionality, users don't have to bounce between programs to perform necessary tasks. This not only improves efficiency — which equals money in your practice's pocket — it also helps reduce burnout and frustration from users. When your practice staff is happy, they can do their job keeping your patient population healthy.
What is Population Health and Why Does it Matter to Practice Management?
Population health is an emerging concept wherein the care of patients is managed by a provider, group or health system in a more multi-faceted and comprehensive way. Commonly, population health is seen as managing patients outside of the clinical moments where they are present with a healthcare provider.
Compensation models from government (Medicare, Medicaid) and commercial payers are adapting to the population health model. The compensation for providers is now moving towards outcome-based and standards-based reporting on the management of patients, regardless of the number of times a patient has been seen. This is dynamically different from the traditional model of providers charging for each visit to a clinic by a patient regardless of their chronic disease or other identifying factors. With the growth of population health, new tools are required to ensure patient care is effectively coordinated and providers monitor quality and utilization benchmarks.
A new practice management application should be able to support population health activities and goals. PM systems offer a variety of tools and support to ensure patients are adequately identified, billed and scheduled for routine and acute moments of care.
Medical Practice Management Software Report
Expert recommendations and analysis on the top Medical Practice Management Software
Medical Practice Management Implementation Goals
Goal 1

Move Away from Paper Records

The charting features of an EMR, EHR or PM offer a pretty simple goal: transfer from paper records to digital ones. This helps practices be more organized, as digital records can be searched and stored in a fraction of the space that paper files require. PMs are also more environmentally sustainable, as they don't use paper. The best practice management systems improve the ability of your practice to communicate and integrate with other practices and hospitals, streamlining patient care across providers.

Goal 2

Improve Communication

Speaking of communicating with other practices, improving communication in the medical world is a huge bonus of practice management systems. The old joke that doctors have the worst handwriting of any profession is well known for a reason, and eliminating pharmacy errors and miscommunications due to illegible handwriting is just one of many medical practice management software benefits. PM solutions can also make it easier to communicate with other providers such as hospitals and specialty practices, offering a more complete understanding of a patient's medical record.

Goal 3

Streamline Staff Workflows

Whether a patient is booking an appointment online or a physician is taking notes on an encounter, your practice staff shouldn't have to bounce around between systems to get it done. Because EHRs and EMRs are somewhat notorious for integrating poorly with other systems, getting a practice management system that offers everything in one package can eliminate integration headaches.

Goal 4

Improve Patient Care

At the end of the day, patient care is the end-game for medical practices, and practice management helps achieve this in a variety of ways. PM systems help reduce wait times in the lobby and allow patients to schedule their own appointments online — and who doesn't want to get in and out of the doctor's office faster? Patients can also access their records via a patient portal, giving them insights into their treatment and forming a partnership between care providers and patients.
Medical Practice Management Software Report
Expert recommendations and analysis on the top Medical Practice Management Software
Top Practice Management Software Features and Functionality
PM systems offer everything from basic clinical documentation to paperless check-in solutions. Because of the expansive breadth of offerings that now seem commonplace, clinical practices and providers in search of medical management software must evaluate these applications by identifying the key needs of their practice. Looking primarily at the core offerings of the application, such as the provider comfort, usability and reliability, you can select a system that is right for your unique practice.
| | |
| --- | --- |
| Patient Scheduling | Important to the selection of a new practice management application is the ability to accurately and adequately schedule, bill and identify patients who are covered by a contract with shared savings opportunities. This includes patients who are covered by government-subsidized health insurance (Medicare, Medicaid), those who have elected to purchase supplemental insurance (Medicare Advantage) as well as those who are on commercial insurance that has value-based care components. |
| Billing Modules | Accurate billing features are a vital aspect of a practice management application. The International Classification of Diseases, version 10 (ICD-10) was rolled out in the United States in 2016, and it is imperative that your practice management systems support billing ICD-10 codes. More and more payers, including Medicare/Medicaid (CMS), are offering value/risk-based contracts that must meet specific requirements in order to be eligible for shared savings and enhanced payments. |
| EMR/EHR Integration | Many PM systems are now offered by EMR companies. This offering of a unified solution provides one base for scheduling, coding, billing, clinical documentation, EMR functionality, registry creation and patient outreach. However, in many cases, a combined EMR/PM system may not be truly integrated because the original code base of the applications could have been produced by separate organizations and then merged through acquisition or strategic partnership. Providers must be thoughtful about which PM system they select and whether or not to choose a combined PM/EMR solution. |
Medical Practice Management Software Report
Expert recommendations and analysis on the top Medical Practice Management Software
Advanced Features of Practice Management Software
Increasingly, practice management applications have built out more capabilities focused on population health that aim to enhance a provider's revenue and their ability to treat more patients successfully. As the US healthcare market pivots to a value-based payment model, in lieu of the traditional fee-for-service model, new opportunities are now available to ensure that revenue opportunities are maximized and the coordination of care for patients is shared both within and outside the confines of the physical clinical location.
| | |
| --- | --- |
| Population Health Monitoring | A new practice management application should be able to support population health activities and goals with a variety of tools and support to ensure patients are adequately identified, billed and scheduled for routine and acute moments of care. |
| Insurance Eligibility Verification | In order to effectively decrease days in accounts receivable and improve cash flow, it is imperative that practices have the ability to verify a patient's insurance eligibility before the patient is seen. practice management systems allow clinical staff to verify insurance eligibility for either a flat monthly fee or billed by transaction. Insurance eligibility checks should be completed in real time and the output should be easy to read and understand to ensure there is no ambiguity for reception or billing staff. |
Medical Practice Management Software Report
Expert recommendations and analysis on the top Medical Practice Management Software
The Software Selection Process
Finding the right PM application is driven by understanding the specific features that are required to ensure a clinic runs smoothly. There is no one-size-fits-all product, and choosing the best medical practice management software for your organization will require a combination of identifying your needs, seeking guidance from peers and shortlisting vendors.
Look to local organizations and groups that best represent similar interests like HIMSS, MGMA, AHIMA, or a specialty-specific local or regional organization to learn more about efficient PM applications. These organizations should offer relevant advice about how to maximize the efficiency of your processes, which may depend on your size, ownership makeup, specialty and other factors. Once specific areas of improvement have been identified, engage with the resources within the organization that are responsible for those areas. Begin by identifying goals for this technological and operational investment.
Properly structuring the selection process for an upgraded or new practice management system is important to keep priorities in line, timelines and budgetary constraints in check, and to ensure all important considerations are addressed during the process. Below are six steps to help you select the best medical practice software for your organization.
Step 1: Identify Key Stakeholders to the PM Selection Process
Medical practice management solutions are critical to practice operations and the financial success of the clinic. Moreover, there are significant aspects of risk and fraud that need to be considered. Due to the nature of this acquisition, it is imperative to identify key personnel from all areas of clinical and financial operations and include them in the vetting and decision-making process.
Step 2: Assess Existing Workflow and Revenue Cycle Features
The identified team for this project should prepare for the selection process by evaluating, assessing and studying the current workflow and revenue cycle process for the clinic. Understand the features and functionality that are currently in use, the processes that appear outdated or inefficient, and the areas that could benefit from automation or attention.
Record and understand all current practice management expenses. How much does it currently cost to code, bill, adjudicate and report on expenses and overhead? What do you pay for scheduling software, coding/billing software, and personnel? And, what metrics are being used to effectively evaluate the success and efficiency of current practices?
Step 3: Identify Desirable Features
After evaluating the workflow and current operations, determine if there are completely new functionality or feature sets that would be of interest or value to your operations. Most likely, new PM applications are available with a host of new and different features than what is currently in use today at your location(s). Without consideration of vendor, identify the features that are of interest to you. Remember to consider other resources and personnel as well, including the patient, as to what would make the experience of engaging with the clinic most valuable. Consider hosting a brainstorming session and identify ways to engage your entire staff to gain a wide variety of perspectives into what works and what doesn't.
Step 4: Identify and Compare PM Systems
Identifying potential PM partners can be accomplished in a number of ways. Depending on your organization's relationship to complementary or community resources, it may be most beneficial to catalog the vendors and products currently in use by your peers and identify the most highly respected and successful PM systems in use in your networks. As well, issuing a Request-for-Proposal (RFP) will garner attention from interested vendors to submit their bids and information regarding products that could suit your needs.
It is important to include all of the identified needs from Stage 3 as part of any RFP you publish. It is also worthwhile to ask your shortlisted vendors for a trial or demo to preview the software functionality for yourself and have your staff take it on a test run. If the system can't perform the tasks you need it to during the demo, you can be fairly certain it won't be the right solution for your practice.
Step 5: Compare a list of Medical Practice Management Software Vendors and Conduct Demonstrations and Site Visits
Create a formal RFP that outlines your specific requirements for a new PM solution. Include specific information vendors will need from your practice that reflects the workflow you currently or ideally would like to create. Require vendors to detail the functionalities and features of their product in direct support of the ideal workflow and to include pricing information. Also, request to see examples of the vendor's work and a list of at least three references that you can call. Do additional research on these firms' reputations and ability to deliver their work on time, within budget and as promised.
Step 6: Final Selection and Contracting
After a thorough review of all supporting documentation from the vendors, weigh each product's system features vs costs and make a selection that will yield the most benefits. Make sure your contract with the selected vendor is thoroughly vetted by a legal team to protect you and ensure the product will be delivered as intended. Then, begin to implement the new system with a thorough plan for employee training and reap the rewards of improved efficiency and functionality.
Medical Practice Management Software Report
Expert recommendations and analysis on the top Medical Practice Management Software
Final Thoughts
The process can seem daunting, but getting the right all-in-one practice management tool is a crucial step in making your practice the best it can be. This medical practice management software comparison can be used as a jumping-off point to guide your decision-making. And don't forget that although patient care is the ultimate goal of medical practices, it isn't always the utmost concern of medical software vendors. Bringing the search back to the core goal of improving your patient care will help keep you headed in the right direction!
70 Products found for
Medical Practice Management Software
Our experts can help you shortlist the best software options for your organization's unique needs.
Call SelectHub for a
free 15-minute selection analysis:
1-855-850-3850
Pricing & Cost Guide for Medical Practice Management Software
See the Price/User for the top Medical Practice Management Software… plus the most important considerations and questions to ask when shopping for Medical Practice Management Software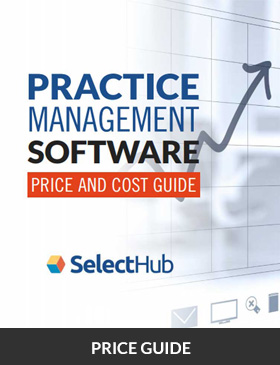 Real People... with Data
We know selecting software can be overwhelming. You have a lot on the line and we want you to make your project a success, avoiding the pitfalls we see far too often.
As you get started with us, whether it be with Software Requirements templates, Comparing, Shortlisting Vendors or obtaining that elusive Pricing you need; know that we are here for you.
Our Market Research Analysts will take calls, and in 10 minutes, take your basic requirements and recommend you a shortlist to start with.