Top Medical Billing Software Comparison
SelectHub is real people helping you find the best Medical Billing software for your unique business needs while recognizing the top medical billing system solution leaders who help make your decisions possible.
Products

Price Guide

Buyer's Guide
Medical Billing Software Buyer's Guide
Last updated on
August 9th, 2019
The Best Medical Billing Software Streamlines Financial Activities for Your Practice
By Bergen Adair, Market Research Associate
As a medical practice, your chief focus is your patients' health. But when it comes to running your day-to-day operations, medical billing software can significantly impact the financial health of your practice. As part of a medical practice management system (MPM) or an integrated EHR solution, it must perform multiple tasks to ensure payment for your services is done accurately, cost-effectively and in a timely manner.
Executive Summary
Medical billing software streamlines financial activities for your medical practice.
The main benefits and goals of medical billing software are revenue cycle management, error reduction, maximizing reimbursement and improving efficiency throughout the practice.
Many medical billing systems offer advanced features like scheduling and reporting that can benefit your practice in ways outside of its cash flow.
Before selecting a medical billing program, users should ask a range of questions both of themselves and of their vendor shortlist to ensure they are targeting the right features for their practice.
Benefits of Medical Billing Software
Growing data demands, technological innovation and changing regulatory and reimbursement requirements can make the evaluation and selection of medical billing software seem overwhelming and confusing for physician practices.
If your practice wants to focus solely on the delivery of care, you may prefer to outsource your billing and financial processes to a third-party medical billing service provider.
This medical billing software buyer's guide is for those who want to keep medical billing in-house and retain more control of your practice's operations. It gives you a comprehensive overview of features and functions, primary and secondary considerations, as well as guidance in the evaluation and selection process of medical billing software.
For a deeper dive into medical billing services vs medical billing software, check out Why You Should (or Shouldn't) Use Medical Billing Software.
Importance of Medical Billing Software
Medical billing software is a chief component of your revenue cycle management (RCM) process. According to the Healthcare Financial Management Association (HFMA), the revenue cycle includes all the administrative and clinical functions that contribute to the capture, management and collection of patient service revenue.
The key is selecting a medical billing solution best suited for the unique needs of your practice both at present and as it evolves. It would be a lot easier if there were a one-size-fits-all solution, but unfortunately one probably doesn't exist. We will address features and considerations in further detail, but it's important to understand how your selection enhances workflow. Performance and morale will suffer if your staff finds it disruptive.
In addition, the right software can automate services, accommodate different needs and reduce billing errors that will positively impact the patient experience and boost satisfaction.
Medical Billing Software Report
Expert recommendations and analysis on the top Medical Billing Software
Medical Billing Implementation Goals
Selecting the right medical billing software can help your practice:
Goal 1

Improve Accuracy and Decrease Duplication

Most medical billing software programs offer clearinghouse solutions that de-duplicate data and help users catch potential errors. This prevents costly mistakes and takes human error out of the equation.

Goal 2

Increase Productivity

Instead of filling out time-consuming forms and chasing down patients to obtain payments, staff can spend time delivering patient care.

Goal 3

Reduce Staffing Needs

A medical billing solution can replace employees who previously would have performed claims management, billing and collection actions.

Goal 4

Track and Measure Practice Performance

With reporting and business intelligence capabilities, medical billing systems offer insights into practice performance.

Goal 5

Manage Cash Flow

Medical billing solutions offer claims management, collection and billing capabilities that track revenue.

Goal 6

Accelerate Payments

The claims management module processes and executes insurance claims to facilitate interactions with both patients and insurance companies.

Goal 7

Maximize Reimbursements

With denial management, payment reminders, claim reconciliation, remittance alerts and other advanced billing capabilities, medical billing systems ensure your practice is paid what it is due in a timely manner.

Goal 8

Automate Processes

Billing software for physician practices automate processes such as sending claims, collection letters, de-duplication and accounting.

Goal 9

Assist with Compliance

Medical billing programs offer a range of security features and reminders to ensure HIPAA, ANSI 5010 and ICD code compliance.
Changing Regulatory Environment and Reimbursement
Given the importance of reimbursement and compliance, it's important to review how a medical billing solution will keep pace with the changing regulatory environment. The practice of medicine is witnessing a shift away from a volume-based, fee-for-service payment model and toward data-driven, value-based care which will place additional demands on your billing team.
In this reimbursement model, the health of your patients matters more than the number of tests and procedures you perform or patients you see.As part of the transition toward value-based reimbursement, Congress passed MACRA, the Medicare Access and CHIP Reauthorization Act of 2015. Among its provisions, MACRA establishes new ways to pay physicians who successfully demonstrate quality and effectiveness over volume in treating Medicare beneficiaries. Under MACRA, eligible clinicians can participate in Merit-based Incentive Payments Systems (MIPS) or Advanced Alternative Payment Models (AAPMs).
Among the challenges of a quality of care reimbursement model will be physicians' taking into account a full range of patient's health issues and chronic diseases that are not reflected in their claim. This is vital to avoid being penalized for poor documentation of patients' conditions.
Medical Billing Software Report
Expert recommendations and analysis on the top Medical Billing Software
Basic Medical Billing Software Features and Functionality
Medical billing software should integrate into your overall project management solution and seamlessly link all your stakeholders to improve your practice's payment cycle and optimize cash flow. The revenue management cycle entails front office and patient visit functions (collection and verification of patient insurance information) and back office functions (diagnosis and procedure coding, charge capture and clinical care documentation, account reconciliation, claim submission, collection, and final payments).
| | |
| --- | --- |
| Insurance Validation and Verification | Verifying insurance eligibility to minimize billing delays and denials. |
| Payment Processing | Processing co-pays, deductibles or coinsurance payments at the time of the office visit via cash and credit card. |
| Payment | Allowing for both self-pay and insurance, does your practice have a sliding scale for patients who don't file insurance or opt to pay out of pocket? |
| Charge Capture/Medical Coding | Rendering medical services into billable charges. Charge capture allows providers to input the correct diagnosis (ICD-10) and procedure (CPT) codes used in a medical claim. Software should minimize the time it takes to identify and insert the right billing code. The billing software should allow for annual medical code updates. A reliable charge capture feature simplifies the process and helps you avoid improper coding or incomplete information that can result in lost revenue. |
| Claim Submissions | Checking for claim errors (scrubbing) before submission to payers and enabling electronic claims to be submitted to clearinghouses, which in turn "scrub" claims to make sure requirements and stipulations are met. |
| Reimbursements | Tracking revenue from claims reimbursements as well as the portion of your patient services that comes from patient self-pay, co-pays and deductibles. |
| Remittance Processing and Electronic Remittance Advice (ERA) | Applying or rejecting payments through remittance processing. Importing ERA documents supplied by the insurance payer that provide notices and explanations of reasons for payment, adjustment, denial and/or uncovered charges of a medical claim. |
| Collections/Billing | Collecting payments from third-party insurers. Tracking claim status (including rejected claims, claims paid below market rate, resubmissions); Recording, posting and tracking 30/60/90/120 day receivables and following up with patients carrying balances after insurer payments (as well as patient non-payment/bad debt). |
Medical Billing Software Report
Expert recommendations and analysis on the top Medical Billing Software
Advanced Features
These features may be key to your business, but not all medical billing software systems will offer them all. Identify which advanced features your practice will need in advance to guide your selection.
| | |
| --- | --- |
| Insurance Relationships | Tracking different contract rates/discounts of accepted payers. |
| Reporting/ Benchmarking/ Forecasting | Providing reports can give important insights into the practice productivity and profitability of your overall practice as well as by individual providers, codes and procedures. This is helpful in setting benchmarks for your practice, measuring against practice norms and identifying key performance indicators. |
| Scheduling | Including a patient and staff scheduling module within the medical billing software can negate the need for a separate patient scheduling system |
| Workflow Management | Offering a workflow dashboard, rules management engine, claim code validation and code/charge entry helps streamline staff tasks and promote organized workflows. |
Medical Billing Software Report
Expert recommendations and analysis on the top Medical Billing Software
Other Key Considerations
In addition to medical billing functionality, here are some other key considerations to factor in:
Workflow and User Interface
One of the key differentiators between software solutions is how well they track payments and help organize and quicken payment schedules. Here are some questions to ask:
How automated are the features for insurance verification and claims submission?
How easy is it to create and resubmit insurance claims?
Does it increase accuracy associated with charge capture to minimize denials and resubmissions (e.g., an error correction feature to flag wrong billing codes or insurance policy information)?
Is the navigation process and interface streamlined to reduce the number of clicks and screens and allow keyboard shortcuts?
Does the software support the automated creation and assignment of tasks generated from the billing process?
In addition to minimizing the number of steps, how does the solution facilitate collaboration and hand-offs between stakeholders? Can it help reduce the time lag from submission to remittance?
Customization
How templates and workflow processes can be customized by practice specialty, multi-specialty, sub-specialty, size and location(s) and billing user level. Can the system support durable medical equipment billing?
Compliance/Data Governance
How the audit trail performs in tracing the detailed transactions relating to who accessed patients, when they were accessed and what changes were made; What are its capabilities for data retention and automated backups and data management (where the data is stored and secured)?
HIPAA/Security
How the solution encrypts data at rest and in motion and how access controls (authentication and authorization) ensure information is secured and restricted on a need-to-know basis. These issues are particularly important considerations given the rise of data security breaches, ransomware and malware.
Scalability
How the software performs as your practice evolves and grows.
Migration/Integration
How the solution can handle migration of data from your current system. How easily does it integrate with your patient portal?
Technical Support (Installation, Training, Maintenance)
What is the level of support and costs associated with installation, training your staff (including training after upgrades) and system maintenance? Is the system easy to use and easy to learn?
Mobile/Telemedicine
How accessible the solution is by mobile devices or a remote location. How is data secured and is its interface compatible with a mobile device? Does it account for billing and payment for professional services furnished via telehealth?
Pricing/Licensing
What the total cost of ownership is over the system's life cycle. What are the costs of upgrades and updates for features? What is the pricing and costs associated with the number of users?
Medical Billing Software Report
Expert recommendations and analysis on the top Medical Billing Software
The Selection/Evaluation Process
Selecting the right medical billing software system can seem daunting, but with the right tools and support it's very achievable. Here are some steps to take to prepare for purchasing medical billing software:
Identify Stakeholders and Solicit Input
This involves clinicians, administrators, IT and billing staff who all play a role in moving a patient through the revenue cycle management process. Administrators are concerned with reporting functions and cash flow. Back office staff focus on the navigation process, and clinicians are concerned with accurate charge capture.
Assess Billing Needs
This involves assessing staffing, productivity, current and future patient volume, patient mix and demographics, and the number and types of insurance plans (both private and government payers).
Assess Current Performance
What are the key performance indicators? What are your estimated processing time and total costs for billing and insurance-related activities? To what extent does your system streamline and automate processes without compromising accuracy?
Identify and Compare Medical Billing Systems
Once your list of vendors is narrowed down to the top two or three vendors at the most, ask them to demonstrate how their system will work and how it performs when in action. See if they have a trial version, and test the software to make sure it's easy to use and meets your practice's needs.Be thorough. Talk to references for each vendor. But don't only rely on your vendors' references who will likely offer the most positive reviews. Ideally, you should reach out to additional contacts for more information and opinions to get a complete picture of your candidates.
Questions to Ask Medical Billing Software Vendors
In discussions with potential vendors, understand their solution's ability to handle the dual requirements of fee-for-service and value-based reimbursements. Some questions to consider asking yourself prior to purchasing:
Is your practice growing? Do you need this solution to be scalable?
What types of reports do you need to generate?
What is your budget?
Do you want on-premise or cloud-based deployment?
Do you need a system with extensive customizations?
Some questions to ask when selecting vendors:
How long has the vendor been working in this field?
How satisfied are customers with their decision to use this vendor?
How disruptive was the installation of the new system?
How HIPAA compliant is this vendor?
What types of reports will this system generate?
Will this vendor alert you to contract issues?
What kind of customer support does this vendor offer?
How customizable is this system? Does customization incur additional charges?
Medical Billing Software Report
Expert recommendations and analysis on the top Medical Billing Software
Final Considerations
Remember, a medical billing solution is only as good as the billing team it supports. A well-trained and experienced billing team can help your practice avoid coding errors and incorrect data entry, which impact revenue.
Credentialing: Selecting credentialed billing and coding professionals can ensure best practices are employed to help avoid audits and keep aware of industry changes.
Communication: Given the many functions and stakeholders involved in the revenue cycle management process, coordinated communication is key where individual roles are clearly defined to minimize errors, duplication and missed deadlines.
Related Content
52 Products found for
Medical Billing Software
Our experts can help you shortlist the best software options for your organization's unique needs.
Call SelectHub for a
free 15-minute selection analysis:
1-855-850-3850
Pricing & Cost Guide for Medical Billing Software Systems
See the Price/User for the top Medical Billing Software Systems… plus the most important considerations and questions to ask when shopping for Medical Billing Software Systems.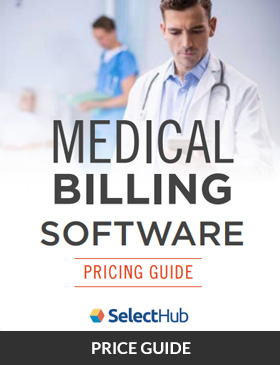 Real People... with Data
We know selecting software can be overwhelming. You have a lot on the line and we want you to make your project a success, avoiding the pitfalls we see far too often.
As you get started with us, whether it be with Software Requirements templates, Comparing, Shortlisting Vendors or obtaining that elusive Pricing you need; know that we are here for you.
Our Market Research Analysts will take calls, and in 10 minutes, take your basic requirements and recommend you a shortlist to start with.