Marketing Automation Software
SelectHub is real people helping you find the best marketing automation software tools for your unique business needs while recognizing the true platform leaders who help make your decisions possible.
Products

Price Guide

Buyer's Guide
Marketing Automation Software Buyer's Guide
Last updated on
August 9th, 2019
The Best Marketing Automation Software is All About Efficiently Augmenting Marketing and Sales Teams
By Michael Shearer, MA Expert
Augmenting your business capabilities with software is essential, but it isn't always easy to get started. In addition to facing tough choices about overcoming the problems with automation and integrating it with existing CRM frameworks, you also have to choose the best tools to support growth. With so many different marketing automation platforms on the market, comparing them all can be a task within itself.
This guide will explain the basic functionality of marketing automation software and suggest some core features buyers should expect from their purchase. We'll walk you through the steps to take when preparing to buy a platform and give you some tools and recommendations to help you in the software selection process.
Executive Summary
The goal of automated marketing software is to streamline the marketing process directly into the sales process
Marketing automation tools convert prospects to customers by offering them highly personalized experiences and content
This software organizes marketing and nurturing tasks as well as promotes department collaboration, improved conversion rates, retention and ROI
The most popular features are: email automation, lead nurturing, campaign tracking, customer tracking, cloud-based deployment and access for multiple users.
When selecting software, it's important to set out parameters for your needs from marketing automation tools. You should start by identifying the core requirements that your organization will utilize most heavily. Then, explore some advanced benefits — it might offer a competitive advantage in your field.
Benefits
Marketing automation software offers multi-channel abilities. It allows teams to create targeted campaigns, segment leads, collaborate with sales teams and generally improve their strategy. It's often confused for customer relationship management (CRM) software, but the two perform slightly different functions.
The goal of automated software is to streamline the marketing process directly into the sales process. Marketers can utilize this technology to plan, coordinate, manage and measure campaigns and ROI from those campaigns. Automated marketing tools also automate repetitive tasks like batch emailing to free up teams' time and creative energy for other activities.
Marketing automation platforms help convert prospects to customers by offering them highly personalized experiences and content. Leads are managed via generation, scoring, nurturing and segmenting to ensure reps are always aware of where a lead is in the sales pipeline and how highly qualified they are. This helps your employees always target the right lead at the right time for conversion. Marketers who consistently make data-driven decisions are significantly more likely to generate better customer engagement and loyalty.
Many online marketing platforms offer analytical insights that help users track customer behavior in order to respond with decisive action. This helps shorten the sales cycle significantly, improving ROI and general sales performance. Many include options for automating emails like automated responders, email templates and drip emailing.
Marketing Automation Software Report
Expert recommendations and analysis on the top marketing tools
Implementation Goals
Your goals for marketing automation platforms are likely to be unique, so it's imperative that your software includes the specific benefits you need to reach them. By clearly defining your goals before you start looking at different tools, you'll decrease the chances that you'll be swayed or misled by bells and whistles that don't really get the job done.
Goal 1


Create better, more targeted marketing campaigns
Creating better campaigns is easy with marketing automation platforms. Tools gather customer data from a range of sources including email campaigns, social media and website clicks. With this information, users can create highly personalized campaigns to draw in highly qualified leads and deliver your product or service to the people who want it.

Goal 2


Track leads to better nurture them
Marketing automation tools track and segment leads to categorize them for the benefit of the team. They are also tracked as they progress through the sales pipeline. This makes them much easier to nurture long-term and fosters a trusting relationship with your brand.

Goal 3


Automate repetitive tasks
Automating menial tasks takes the legwork out of marketing and makes the whole team more efficient. When both sales and marketing teams can view lead positions within the sales pipeline, it becomes second nature to work together to turn leads into lifelong customers.

Goal 4


Align sales and marketing goals for long-term customer relationships
When every task is organized and your teams are collaborating, customers are never bounced from department to department or harassed with too many communications. This promotes a positive relationship between your brand and your clients.

Goal 5


Improve ROI


The combination of all these factors means you're likely to see improvement in sales, conversion, retention and ROI.
Marketing Automation Platforms Report
Expert recommendations and analysis on the top Marketing Automation tools
Basic Marketing Automation Platform Features and Functionality
Now that you've set some concrete goals, you can consider the kinds of features and capabilities you'll require to achieve them. Although some observers at Forbes and other outlets note the many similarities between competing digital marketing automation tools, they also say that each option typically focuses on specific automation actions and workflows in varying degrees. A platform that markets itself as being comprehensive won't necessarily make it equally easy to perform different kinds of common tasks.
Here are some of the most common marketing automation software features:
| | |
| --- | --- |
| Lead Management | Includes lead filters, capturing, nurturing, scoring, customizable qualifiers and more. Marketers and sales reps can view the same information within the platform to track and monitor opportunities. |
| CRM Integration | Seamless integration with a CRM allows users to import customer history and other important client data to make the client experience as streamlined and personalized as possible. |
| Campaign Management | Creating and managing campaigns is the core of these online tools. Integrated marketing tools include campaign automation, multiple asset assignment and collaboration are all crucial elements of this feature. |
| Automated Email Marketing | Arguably the most valuable channel for marketing campaigns, online email capabilities are vital. Users can create templates, send batch emails, track customer engagement and more. |
Understanding What You Need in the Context of What's Available
Lofty ambitions are awesome, but they may make it more difficult to settle on practical solutions. While it's important to find automation software tools that fulfills the functions you need, it must do so in a fashion that suits your modus operandi and corporate culture.
Suppose you're committed to implementing a comprehensive sales and marketing automation platform that automatically generates and organizes account information for new clients as you make contact. If you simply jump at the first application that offers such functionality, there are no guarantees that you won't end up with new account entries that overlook important contact information or skip over certain unique factors that are relevant to your niche. In addition to comparing products to each other, you may need to refine your goals.
Marketing Automation Tools Report
Expert recommendations and analysis on the top platforms
Advanced Features to Consider
From our research with hundreds of software tool owners and managers, all looking for the best marketing automation tools, we gained the unique knowledge of what software is being selected and which features buyers wanted. Below are features that were most frequently sought out by buyers.
| | |
| --- | --- |
| Cloud-Based | Users want the flexibility, low cost and versatility of cloud software tools |
| Email Automation Tools | Automating a variety of automated emailing processes including batch email sending, drip email marketing and tracking engagement with those emails is a crucial part of functionality |
| Lead Nurturing | Lead nurturing includes everything from capturing a lead to marketing funnel automation and guiding them along the sales pipeline to building a lasting relationship |
| Campaign Tracking | Marketing automation platforms should offer tracking features for user engagement with campaigns, campaign ROI and other key features to help guide future campaigns |
| Customer Tracking | Users should also be able to track useful information about their customers' interests, buying habits and other behavior in order to more accurately personalize their experience with your brand |
| Multiple Users | Useful marketing automation tools offers access to multiple users across departments to create a cohesive, collaborative team experience |
Each of these features offers unique abilities to your enterprise or small business, so it's important to know which are right for you. Comparing vendors can be overwhelming, especially when they're all going to offer similar functionality. To find out how different vendors score for specific requirements, check out our software platforms comparison report.
Marketing Automation Platforms Report
Expert recommendations and analysis on the top Marketing Automation tools
Before You Buy
Quantify the Advantages of Each Tool
Because it can be difficult to compare the value of unique features from different software packages, it's wise to actually figure out how much time, money or resources each one will help you save.
Don't forget about general features that might not necessarily be explicitly related to marketing tasks. For example, your tools need to be easy to integrate into other business software tools, so they should export data in various formats and function seamlessly as you transition from one platform or device to another. If something goes wrong along the way, you shouldn't have to wait for a new patch or update; you should be able to rely on immediate service from the software provider.
Set Specific Targets
Market data predicts that by the year 2020, consumers will manage around 85 percent of their relationships with companies without ever talking to another human. While it's definitely wise to ask yourself whether your automation and CRM software tools will be able to keep pace with the demand, a better question would be how well they manage the small details.
Metrics are critical to the success of any implementation, so they ought to figure into your initial comparisons too. For instance, only 11 percent of respondents in 2015 said they thought software tools were too costly, but if you don't want to find yourself becoming a part of that small-yet-disgruntled segment, you'll make marketing automation software comparisons based on in-depth factors. Consider measurable quantifiers like:
The projected training time needed for complete adoption
Monthly licensing and operating fees
Immediate ROI potential
User accommodation capacity
Gauge Your Ability to Adjust
When business intelligence data reveals more efficient methodologies, smart organizations make changes in kind. Consider how that might translate into working with different marketing automation platforms. Applications that feature customizable or modular structures may lend themselves better to your quest for a unique platform that's ripe for fine-tuning.
Don't just settle for whichever software tools package boasts the longest list of features. No app is perfect out of the box, so no matter what field you're in or how flexible your needs may be, there will come a time when you have to make changes to the way your marketing automation tools function. Picking an option that fights you every step of the way could mean you end up wasting valuable effort.
Perform a Real-Life Needs Assessment
Finally, realize that you need to take the decision-making process further than mere conjecture, because even the best tools have learning curves. The secret to making your transition as smooth as possible is getting a concrete understanding of your problems and the specific ways marketing automation platforms can provide solutions.
Marketing automation was a $1.8 billion industry in 2015, and is expected to be worth 25.1 billion by 2023. In short, this means you have ample options but also that there are bound to be some that don't fit. Create an itemized list of what you're looking for, and as you compare marketing automation tools, don't be afraid to add things you might not have previously considered. To get started, use a requirements template or similar tool to narrow things down and focus your search.
SelectHub's List of Marketing Tools
Of course, no automation comparison guide would be complete without an introduction to some of the most popular companies on the market. While we can't choose services for you, we can give you a list of the most frequently chosen vendors of the past year as detailed at the top of this page.
Marketing Automation Software Report
Expert recommendations and analysis on the top software tools
Questions to Ask Your Organization
What are some short-term goals you hope to achieve with marketing automation tools?
What are some long-term goals you hope to achieve with the software platform?
What are your current KPIs, and how can you use them within your marketing automation software to show each department's value?
What deployment best fits your organization's needs?
What kind of reporting capabilities do you need? Do they need to be customizable?
How many contacts do you need to store within the database?
Do you anticipate growth in your organization? Can this software tool scale with you?
Questions to Ask Marketing Automation Software Companies
Does this product support social media plugins?
What apps does this product integrate with?
What kind of support can they offer you?
How customizable is this software tool?
Does this product offer mobile capabilities?
How long does implementation take?
Is it easy to add additional users?
Is employee training with the software included in the price? For how long?
Can additional features be added after implementation?
How often are new features or updates applied to this product?
The Final Word
Marketing automation software platforms are the ultimate solution for working smarter, not harder. It is designed to improve campaign targeting and lead segmentation to empower teams. This kind of software tool also promotes alignment between sales, marketing and management teams to improve efficiency and communication within your organization. Finally, automation aims to streamline overall pipeline flow, improve customer retention and deliver significant ROI for your business.
There are thousands of different types of marketing automation platforms out there, and some are even free to try. Make sure to ask for free trials and demos when you speak with sales reps to make sure you have explored all your options. Learn more about what might work best for you by requesting a free report.
Related Content
131 Products found for
Marketing Automation Software
Our experts can help you shortlist the best software options for your organization's unique needs.
Call SelectHub for a
free 15-minute selection analysis:
1-855-850-3850
Pricing & Cost Guide
See the Price/User for the top marketing automation tools… plus the most important considerations and questions to ask when shopping for software.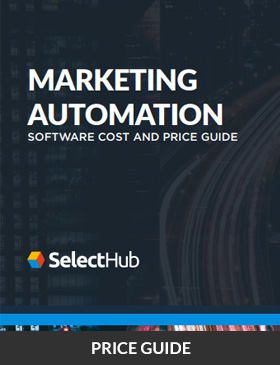 Real People... with Data
We know selecting software can be overwhelming. You have a lot on the line and we want you to make your project a success, avoiding the pitfalls we see far too often.
As you get started with us, whether it be with Software Requirements templates, Comparing, Shortlisting Vendors or obtaining that elusive Pricing you need; know that we are here for you.
Our Market Research Analysts will take calls, and in 10 minutes, take your basic requirements and recommend you a shortlist to start with.