Inventory Management Software Comparison
SelectHub is real people helping you find the best Inventory software for your unique business needs while recognizing the top solution leaders who help make your decisions possible.
Products

Price Guide

Buyer's Guide
Inventory Management Software Buyer's Guide
Last updated on
August 9th, 2019
The Best Inventory Management Software is All About Tracking
By Kim O'Shaughnessy, Marketing Research Lead Editor
The supply chain is a competitive arena with less room for mistakes than ever before. If you can't track your business inventory and effectively plan for demand, there's simply no way to get ahead in the market. For these reasons and more, you need the best inventory management software behind your business.
Executive Summary
Provides the visibility necessary to optimize operations as a standalone software or as part of larger systems.
Goals for implementing include improving visibility, efficiency and customer satisfaction.
Utilizes a number of features to optimize your practices, both basic features and advanced.
In order to choose the right software, buyers will need to perform a thorough comparison of the vendors on their shortlist.
When you finally get in contact with vendors, you may want to ask questions to clear up any last concerns before you invest in a new system.
Benefits of Inventory Software
These solutions are purpose-built to reduce and eliminate out-of-stock and overstock conditions by defining optimal inventory levels for products based on demand. Central elements of order and inventory management software include tracking orders, sales, deliveries and levels.
Software provides deep visibility into your operations.
More Options for Inventory Optimization
While solutions can be sold as a standalone product, inventory management software is also a function of both supply chain management and warehouse management software. These products are an excellent choice for enhanced inventory management if you're looking to manage broader segments of the supply chain. A WMS can provide the necessary functionality plus warehouse planning and labor management. SCM software handles both manufacturing and distribution activities. Businesses looking for complete SCM in addition to back-office functions like accounting may find an ERP solution helpful.
For the purposes of this guide, we'll focus on IM as a standalone system. But if you're looking for something a little more complex, make sure to check out our other software buyer's guides linked above.
Inventory Software Report
Expert recommendations and analysis of the top solutions
Implementation Goals
Businesses looking to implement online inventory control typically share a few common goals. If you're still unsure whether this system is right for your business, check out the three goals listed below. If your goals are similar and don't extend far beyond these, inventory software is probably the perfect solution for you.
Goal 1

Improve Visibility and Planning

Improved visibility is one of the biggest benefits of inventory management systems. With traceability features, users can track levels in addition to locations of materials, goods and deliveries throughout the supply chain in real time. Visibility is the foundation of inventory management software, which then allows the rest of the system to do its job. For instance, knowing where all your inventory is at all times allows you to determine which areas of operations need attention before a major problem occurs.

This also allows for in-depth business intelligence and analytics. Inventory management systems can collect and store data which then produces forecasts, allowing you to plan for the future.

Goal 2

Improve Efficiency and Reduce Costs

Inventory software is an essential tool for those needing to improve efficiency. First, many solutions automatically track and store data surrounding your operations, providing quick insight into your business. Receiving your data in real time is also a major contributor to increasing your efficiency. This helps reduce the errors and costs associated with redundant work based on old data.

Additionally, these solutions automates many tasks related to managing orders. This further assists your workforce in optimizing their time to reduce human error and roadblocks.

Goal 3

Raise Customer Satisfaction

All the benefits of inventory management software are ultimately passed down to the customer. Improved efficiency and reduced costs mean a lower price, or possibly an investment into higher quality production. These inventory management systems also helps increase the rate of perfect orders by facilitating accurate and on-time deliveries. All of these activities raise brand image and appeal in your consumers' minds.
While these goals are universal, every software solution will be slightly different. In order to achieve all these goals, you'll need to select the best software for your business. The best way to determine which vendor offers the software solution most suited to you is through creating a requirements list.
Your list should contain all the features, functions, capabilities and other considerations needed to effectively support operations. For instance, if you need eCommerce inventory software or a solution that works with your retail scanner systems, make sure to document those needs. For more information, be sure to check out our article listing some of the most common inventory management systems requirements.
Inventory Software Report
Expert recommendations and analysis of the top software
Basic Features & Functionality
The following features are included in most inventory management systems solutions and provide the central capability behind this type of inventory management software.
Product Categorization
This feature allows users to enter basic information into their system. This includes details such as product measurements and a complete history covering past audits, inquiries, listings, etc. Users can also easily see the amount of stock on hand for any particular product.
Cycle Counting

Cycle counting is a great way to get an idea of how accurate your levels are without having to perform a complete audit. Inventory management systems support this activity by providing a method of documenting the count. Without this insight, your staff will need to create a spreadsheet and perform documentation by hand.

But inventory apps work with hardware like barcode scanners and RFID technology to quickly input stock data into these platforms. Having access to this information can then make it simple to see when stock is low. Many inventory management systems also allow users to set up alerts for stock outages.

Traceability

This feature is what enables in-depth visibility. As mentioned earlier, these solutions utilize barcoding and RFID tags for tracking.

Traceability provides an audit trail, tracking every movement and interaction until delivery. Additionally, serial numbers and lot IDs can be affixed to your stock which can then identify the product's origins. This way, you don't have to recall all stock on the shelf if you can identify the faulty product through an audit. Most inventory management systems also allow workers to access audits and movement from any device and location with internet.

Inventory Transfer

A feature that helps users manage the movement between locations. This is most useful if you bundle your products. Bundling, also known as kitting, is a great way to get the most value from your products. The seasonality of your products plays a large role in bundling, as you could possibly get more value from your products by selling them together at certain points in the year.

This feature can also help optimize picking inventory with the intention of transferring it to another location to make the process even more efficient.

Purchasing Systems
The creation of purchase orders (POs) can be time-consuming for many companies, especially small businesses without large support staffs. Thankfully, inventory tracking systems can automate the generation of both single and bulk purchase orders. Items can be added to the PO automatically using pre-made templates or scanning barcodes and then emailed to the suppliers. In addition, this feature tracks backorders and allows users to receive partial orders.
Labeling and Shipping

Distribution capabilities are limited within inventory management software, but there are still tools available to allow users to at least prepare inventory for shipping. First, all packages must be labeled. Nearly all inventory management systems provide a way to print shipping labels and packing slips without the use of separate platforms. These labels can include a product's lot ID as well, which helps retailers stock accordingly when using FIFO or LIFO systems.

Inventory management systems also allow users to manage their shipping options through integration with major 3PL companies. After being shipped, users can still track inventory until delivery.

Order Management and Processing

The most basic aspects of this order management system feature include the ability to fetch, edit and track your customers' orders. In addition to receiving orders, more sophisticated software solutions sync sales order data with the rest of your inventory for a cohesive system. For instance, after receiving an order, your system can access levels and mark which products are spoken for. Users can modify prices across product categories and multiple sales channels. Then, based on these new prices, the system can send customers updated quotes.

Software can handle returns as well. This feature makes it easy for users to reconcile inventory records when a return comes in.
Inventory Management Systems Report
Expert recommendations and analysis of the top software
Advanced Features to Consider
The following inventory management systems features are more complex than the previous features. You may want to discuss these with your vendor at length to make sure you're getting the functionality you need.
Analytics and Reporting

Many vendors offer this feature, but you may have to integrate a third-party add-on to do so. Since these inventory management systems process so many orders from beginning to end, there's plenty of data to analyze and get a sense of your overall performance. Analytics are conveyed in the form of reports such as dashboards or PDF documents. There are pre-built reports, but users can typically create custom reports to track unique KPIs.

These KPIs may include gross profit, sales numbers, inventory turns, days to sale, items per shipment, etc. Dashboards may also be configured to show alerts when inventory is low or for other important events.

Vendor-Managed Inventory
VMI enables suppliers to maintain the buyer's inventory. VMI is a useful feature for fast-moving inventory and can reduce the number of ordering errors on the buyer's end. This feature enables suppliers to access levels, allowing them to replenish the stock as needed.
Mobile Support

Many of today's vendors allow users to access their inventory management systems from any internet-capable device. However, this isn't true of all solutions so be sure to double check with a potential vendor if you need this feature.

Some vendors offer designated mobile applications while others require an internet browser. Some applications are device specific, so make sure your current devices are compatible.
Inventory Software Report
Expert recommendations and analysis of the top software
Compare Inventory Management Software Services
As mentioned above, not every system is created equally. What works for one business might not work for yours. The only way to determine if a software solution is truly the best option for your company is if you compare your shortlist of software solutions against the requirements you've created.
We suggest taking a look at SelectHub's inventory management comparison report to do this. Our team of analysts has compared the best software solutions, breaking down an overall rating by the most popular requirements. Use it to see which of the top systems perform best for the requirements most important to your business.
Questions to Ask Software Vendors
While it's important to do a large amount of research on your vendor and the solutions offered on your own, you should still come up with a few questions to ask during a demonstration. This is the time to clear up any uncertainties you may have and to confirm whether or not the system is a good fit.
What product identification tagging technologies does your system support?
Product ID tagging is one of the biggest advantages supported by a system, so you'll want to make sure there are no uncertainties when it comes to this area. Ask about barcoding, RFID tags, QR codes, NFC and the hardware needed to read these technologies. Make sure that by the end of the conversation you fully understand which ID systems will work with the vendor's software.
Assign IDs right from your system.
How customizable are your reports?
Analytics don't mean much if you're not getting insights on the parameters most important to your business. Ask inventory control companies if the solution can track the metrics you need to track today, as well as the metrics you'll need to track in the future as your business experiences new growth or challenges.
Make sure your system conveys the data important to you.
How easy is it to use the system?
If the system's not intuitive, you're not going to save as much time as you thought. Make sure the users of the system will be able to perform their daily tasks, even if it takes a little bit of training. On a similar note, ask about the simplicity of reports. You don't want to spend half the day trying to decipher complex reporting when you could get just as much insight from solutions that provide easy-to-understand visuals.
What training do you provide?
Even solutions with excellent interfaces may require a training session or two before a user can get the hang of it. So be sure to ask the vendor what types of training and support they offer. Some vendors offer in-person training sessions while others use instructional video. Then you need to think about ongoing support for when new features are added or when you just can't remember how to perform a certain task. The most popular forms of support are online chat and telephone support. Ask what hours support is available and if it will incur costs outside of your current payment plan.
What types of companies have you worked with in the past?
The most important criterion for evaluating any provider is whether or not they have previous experience in your industry. Be sure to ask for examples of inventory optimization in your industry and for an explanation of how it was completed. Ask if the system integrates with other software solutions commonly used in your industry and if the workflows will need to be modified in any way.
Can you provide an example of a workflow and alert that prevents an out-of-stock condition from occurring?
If the inventory software companies you're speaking to offer alerts, they should have no problem providing you with a demo. Ask what makes their approach error proof, as incorrectly diagnosing a potential out-of-stock condition can have costly effects on overall inventory levels. You might also want to ask if the alerts can be customized to suit your current operations and if users can access past alerts.
Can your system be configured to fit my current operations?
The most basic solutions use predefined frameworks, while sophisticated systems provide more flexibility through customization. Make sure the solution you evaluate provide the level of configuration needed to suit your operations. Ask the vendor if any case studies exist that can demonstrate the versatility of the system.
Inventory Management Software Report
Expert recommendations and analysis of the top software
Related Content
Last Thoughts
Inventory management systems are a smart choice for businesses looking to grow past the limitations of spreadsheets. In order to get the most out of their next system, buyers should do diligent research on the options available to them and perform a thorough comparison. SelectHub's inventory management software comparison report is an excellent resource to use when starting the selection process. Use it to better understand today's market and the biggest players in inventory management.
64 Products found for
Inventory Management Software
Our experts can help you shortlist the best software options for your organization's unique needs.
Call SelectHub for a
free 15-minute selection analysis:
1-855-850-3850
Pricing & Cost Guide
See the Price/User for the top inventory software … plus the most important considerations and questions to ask when shopping.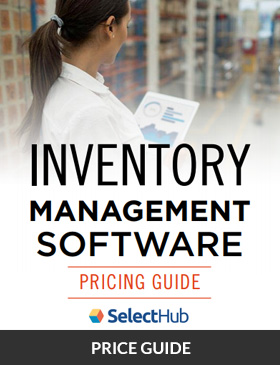 Real People... with Data
We know selecting software can be overwhelming. You have a lot on the line and we want you to make your project a success, avoiding the pitfalls we see far too often.
As you get started with us, whether it be with Software Requirements templates, Comparing, Shortlisting Vendors or obtaining that elusive Pricing you need; know that we are here for you.
Our Market Research Analysts will take calls, and in 10 minutes, take your basic requirements and recommend you a shortlist to start with.