Best Employee Scheduling Software
SelectHub is real people helping you find the best Employee Scheduling software for your unique business needs while recognizing the true solution leaders who help make your decisions possible.
Products

Price Guide

Buyer's Guide
Employee Scheduling Software Buyer's Guide
Last updated on
October 19th, 2020
The Best Employee Scheduling Software is All About Boosting Productivity
By Mariah Hansen, Market Research Associate
Scheduling employees can feel like a big puzzle that involves countless moving pieces. Solving complicated puzzles like this is always easier with a bit of help — that's where employee scheduling software comes into play.
In order to complete your weekly schedule, you need to track a lot of information. You need to know what sort of volume you can expect and how that will affect your staffing needs. You also have to be aware of employee availability, what employees are qualified for each role and if any employees need training, how many hours your business will be open, and much more. Can software really help with all of that?
Well, think of it likes this: With just pen and paper, some managers spend more than 17 percent of their time building schedules every week! Employee scheduling tools can significantly reduce that time. It's pretty clear that at a minimum, software will be a time-saver. If that something you're interested in, then it's time to start looking for a new platform. Look for a solution that addresses all of your needs, and maybe even does a little bit extra. You'll want to assess your options and determine which solution is the best for your needs. Once you've found your perfect match, you'll be able to expedite your scheduling process and boost productivity.
Executive Summary
The top employee scheduling systems help you store and track employee information and easily build schedules.
Will eliminate time-consuming tasks and boost overall productivity.
Conducting a software comparison will be a crucial step in your software buying process. Our software comparison report can be a helpful tool.
When evaluating vendors, there are questions you'll need to ask to ensure you understand the ins and outs of the solution.
Benefits
While every business has different employee scheduling processes and will benefit in different ways, one thing remains the same — you're looking to software to enhance your process. Let's talk specifics. What are some potential benefits that you might see after implementing scheduling software?
Regardless of why you've decided to use web-based employee scheduling tools, you'll likely see an increase in efficiency and productivity. Schedule building is incredibly time-consuming. There are countless factors to consider — from employee availability to the number of hours each employee is legally permitted to work. A platform will help you to account for all of these factors, ultimately making the process easier for you even if the software doesn't generate a schedule automatically. With this kind of assistance, you'll be freed up to focus on other tasks.
Another benefit is a decrease in costs. This may manifest in various ways depending on your organization's operations and why you've chosen to implement new software. You may find that your new productivity results in savings in labor costs as you won't be forced to work longer hours just to complete a schedule. The best staff scheduling software can often eliminate over-staffing by predicting what your specific staffing needs will be based on previous data.
Your employees will also see benefits from using employee schedule software. Depending on the product you choose your employees may be able to access the current schedule remotely at any time of the day. That means you'll see a decrease in the number of missed shifts. Employees can then also find coverage for shifts they can't work and can swap shifts directly through the platform with little effort on the managerial end.
With convenient access to the schedule, your employees will also be able to plan better. This will result in a greater work-life balance and will ultimately result in higher employee morale. The workplace will be a more enjoyable place overall when everyone is happy.
Employee Scheduling Software Report
Expert recommendations and analysis on the top employee scheduling systems
Implementation Goals
As with any new addition to your business, you'll want to have a good plan of how to implement your new software. Part of that plan is knowing what you want to gain from using the software. There are a few goals that your software implementation should accomplish in order for you to get the most out of your new product.
Goal 1

Effectively Assign Work

The best schedules will make sure that your employees are being used to their fullest potential. You know what your employees are best at and should be able to schedule them at times when those skills are put to use.

For example, a coffee shop owner would want to be sure to schedule someone who is a great barista with an individual who is friendly and can operate the cash register. Scheduling two baristas who aren't trained to use the register would leave that spot unfilled.

If you have lots of employees with different skill sets, then you'll want to be sure to have a platform that is able to recognize those skills and schedule accordingly. Even if that isn't a problem for your organization, it's important that your solution is able to help you ensure that you have proper coverage for all the times your business is operating.

Goal 2

Manage Business Needs

How you build the upcoming schedule can impact multiple aspects of your business. As a result, you'll need a solution that is aware of all of those business needs.

The top related priority for your business is ensuring you have proper coverage during business hours. Your workforce scheduling software can help by being aware of trends within your business and using that data to predict what coverage you'll need in the future.

This will not only ensure that you have enough coverage for those times when business is booming, but it will also help to be sure you aren't going over your budget by unnecessarily scheduling more employees than you need. A product's integration capabilities will only enhance this.

By tracking these trends to help build a better schedule, you'll also get data on trends within your business. You might discover that your restaurant is bustling on some days of the week and much slower on others. With that information, you can determine the best days to offer specials to your customers to help promote your business.

Goal 3

Meet Employee Needs

The truth of the matter is that when your employees are happy, they're more productive. One way to help foster a great work environment is by focusing on the basics — particularly scheduling. None of your employees want to come into work just to find out that the schedule has changed and they're no longer needed.

Effective processes will help eliminate this issue altogether, helping your employees to balance both their work and their personal lives. When everyone on your team has a good work-life balance, they'll be more likely to perform better overall at work, and they're more likely to remain employed with your organization.
Employee Scheduling Tools Report
Expert recommendations and analysis on the top employee scheduling systems
Core Features & Functionality
Many employee scheduling systems are equipped with many of the same features and will accomplish the same basic tasks. Some products will even have more advanced versions of those features that can help other areas of your business. However, it is important to note that while most products contain a core set of features, each platform will still have its own strengths and weaknesses to consider. These are some key features you'll want to assess when shopping for software.
Employee Management

Employee management lies at the heart of scheduling and help organize all of the relevant employee information to expedite schedule creation.

Some of the specific tools you'll be able to utilize with this feature include an employee roster, employee database, locations list, cross-referencing features and employee availability database. A comprehensive solution will allow you to track and easily access all of this information when building a schedule.

Schedule Management

Schedule management is likely the main reason you're looking for online employee scheduling tools. No matter what you go with, the schedule management feature will be the feature you use most often.

This function will automate the schedule building process and eliminate any guesswork. Some platforms will even generate schedules automatically, taking into account all of the pertinent factors, like budget and employee preferences.

Shift Management

At the core of shift management tools lies the ability to recognize open shifts so you can perform effective shift scheduling and find employees to fill them. The more advanced your solution, the more the product can help.

The most advanced solutions can work to assign tasks based on the skills and abilities your employees possess at an individual level. Some products can even automatically rectify conflicts and send alerts to let you know when it recognizes a conflict.

Time Management

After you've gone through all the trouble of creating a schedule, you want to be sure that everyone is actually showing up to the shifts they're scheduled for. That's why you want to use time management tools.

Some of the specific tools you get with this feature include time and attendance tracking, overtime tracking, and blackout dates. More advanced solutions provide upgraded versions of these tools. For instance, some products include things like biometrics, which allow your employees' to use their fingerprints to record time punches.

Absence Management

Just like you want to know how long each employee works, you also want to keep track of how often employees are missing work. Fortunately, employee time scheduling software will do more than just track no-shows or call outs.

Absence management can help you to plan for times when your employees are on vacation and even help track their vacation requests. With this information conveniently stored in one platform, you'll be able to ensure that you'll have enough coverage even when your employees are away.

Scheduling & Effectiveness Tracking

You pay your employees to do their job well. Similarly, if you've decided it's time to pay for software, then you want to be sure your new solution is doing its job well. The tools provided by a scheduling effectiveness module will help you see exactly how much of a benefit the proper schedule can be.

The advanced tools within this function can help to predict what the best schedule-building practices are for your business. Some solutions can create schedules for you automatically based on those best practices.
Employee Scheduling Software Report
Expert recommendations and analysis on the top employee scheduling systems
Additional Features to Consider
You've decided it's time to implement employee scheduling tools to help simplify the process of schedule building. Any features that help specifically with that task will be vital. However, depending on the platform you choose, you'll likely have access to extra features that can help out in other areas as well as with your scheduling needs. You'll want to be aware of what those other features are so that you have a good understanding of what your new solution will be able to do.
Track Payroll Expense & Budget

The schedule you've created will affect other aspects of the business — specifically payroll. Obviously, the hours your employees work will directly affect their paycheck. That's why it's a benefit that your staff scheduling software has some financial features included, like exporting relevant payroll data. This feature will save you time by expediting payroll processing.

Employee Self-Service

This is an all-around great feature that helps include your employees in the schedule building process. A solution that is user-friendly and accessible will allow employees to log in and make sure their needs are being met.

Some of these specific tools include allowing employees to clock-in and clock-out within the platform. Some products have a shift-swap feature that allows employees to easily find coverage for shifts they aren't able to work — meaning you'll spend less time looking for someone to fill those open shifts. These tools give your employees more control over the schedule, and they'll likely be happier with the schedule knowing they were able to contribute to its creation.

Deployment

The deployment method you choose will depend on your specific business needs. You might choose an on-premise software if you want a platform that operates in-house, or you may choose a cloud-based solution if accessibility is an important feature for you. You may also want to look for a product that has mobile capabilities in order to facilitate quick schedule changes.

Integration

The level of integration you'll need will depend on what software you already use. Regardless of what your existing systems are, you'll want to ensure that your new one is able to integrate seamlessly.

Reporting & Business Intelligence

Reporting and BI functions will help provide the big picture details of your organization. These tools will help generate data reports that will help you understand how scheduling is affecting business goals.

Some tools — like employee reporting and report creation — can generate forms that show data in an easy to understand format. This information can then be easily shared with executives and stakeholders directly through the platform by granting them access to the platform's dashboards.
Employee Scheduling Tools Report
Expert recommendations and analysis on the top employee scheduling systems
Comparing Software
Once you've begun your search, your goal is to select the best software for your scheduling needs. You'll be faced with the task of defining what you want from a product and reconciling that with what functions each software offers. There will be lots of product features to compare to one another to determine which product will work for your organization.
You need to consider which software will fit best into your business plan. While that can be a big task with lots of details to look over, it doesn't have to be difficult. There's plenty of help out there that will help you break everything down. Our in-depth employee scheduling software report breaks down the data points into a meaningful comparison to help you select which system is your best option.
Questions to Ask Vendors
Does the vendor actively invest in continuous software improvements?
The last thing you want is to use software that will become outdated in a year. When you choose your software, you want to make sure that it will work for you for years to come. You want software that is innovative and will continue to be innovative as technology advances. That's why you'll want to know what the vendor is doing to make sure their product is always up to date with software improvements.
How does the software support data integration with other departments?
Data integration will help when it's time to look at your business analytics. You may want your payroll software and your employee scheduling system to share data. If that's the case, you'll need to know what types of integration are supported by the new product. You may also need your data analyzed for business analytics to see trends. The more complex your needs are, the more you'll need a solution that is able to seamlessly integrate with other software.
How are reports generated?
Understanding how reports are generated will give you insight into what specific employee data points can be analyzed as well as what format it will be presented in once the report is generated. This question will help you understand if the reports being generated will be valuable to you and in what ways you'll benefit from them.
Does the solution support mobile deployment?
Mobile deployment is growing in popularity for business software across the board. For scheduling systems, it helps to facilitate quick schedule changes even when you're not at work. Mobile deployment allows you to make sure you always have the coverage you need, even when you're away from your computer. If your business keeps you moving, then this capability will provide you with a convenient way to track which employees should be showing up to work and when there are changes to the original schedule, so you always have an overview of the most up to date schedule.
What self-learning and support options are available?
Once you've selected your software, you want to be sure you know how to use it properly. Asking the vendor what learning tools you'll have access to will tell you how much support you'll have when it comes time to navigate your software. Some vendors might have a support team you can contact by phone to answer questions while others may offer online video tutorials that demonstrate how to use their software. These things will help you during the process of setting up your software and will be a great support if you run into any snags later down the road.
Related Content
48 Products found for
Employee Scheduling Software
Our experts can help you shortlist the best software options for your organization's unique needs.
Call SelectHub for a
free 15-minute selection analysis:
1-855-850-3850
Pricing & Cost Guide
See the Price/User for the top employee scheduling software… plus the most important considerations and questions to ask when shopping.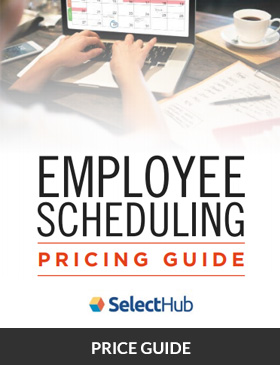 Real People... with Data
We know selecting software can be overwhelming. You have a lot on the line and we want you to make your project a success, avoiding the pitfalls we see far too often.
As you get started with us, whether it be with Software Requirements templates, Comparing, Shortlisting Vendors or obtaining that elusive Pricing you need; know that we are here for you.
Our Market Research Analysts will take calls, and in 10 minutes, take your basic requirements and recommend you a shortlist to start with.