Construction Management Software
SelectHub is real people helping you find the best construction management software for your unique business needs while recognizing the true software leaders who help make your decisions possible.
Products

Price Guide

Buyer's Guide
Construction Management Software Buyer's Guide
Last updated on
August 7th, 2019
The Best Construction Management Software is All About Organization and Control
By Bergen Adair, Market Research Associate
When you think of humankind's greatest achievements, odds are what comes to mind are things we've built. Construction projects are some of the largest, most vital undertakings humans perform — and managing them can be an enormous task. But it doesn't have to be a disorganized one. Construction management software streamlines the project management process from start to finish. Managers can organize tasks, monitor budgets and control daily activities from a centralized hub. This software facilitates communication, organization and control.
Executive Summary
Top construction project management software facilitates communication and collaboration between all departments and teams to ensure projects run smoothly.
The goal of construction management tools is to combine disparate segments of project management into a centralized interface.
Some goals for implementing construction management tools are increased efficiency in communication, risk management, budgeting and workflows.
To choose construction software that's right for you, you have to gather requirements, shortlist vendors, review potential matches and take products for trial runs.
Benefits of Construction Software
One of the main obstacles construction projects face is lack of communication. Someone didn't get the right kind of materials, equipment wasn't properly maintained or no one remembered to tell the subcontractor about an issue with a power outage — you get the idea. Basically, construction management tools aim to reduce the opportunities for these kinds of errors by centralizing the communications, planning and management into a single interface. Never again will you have to worry about emails being accidentally deleted or sent to a spam folder. All your messages can be sent directly within the system.
Construction project management software combines financial, technical, material, inventory, HR, risk and project management features into a single powerful system designed to get the job done right the first time. It creates a standardized process for managing jobs, streamlining every step of the process for both managers and employees. This standardization has the added bonus of making your company seem more professional by giving your projects a uniform look and workflow.
This software automates many menial tasks like sending alerts, scheduling maintenance and exporting documents. Speaking of documents, how often have you had to chase a contract along a paper trail of emails and hard drives? Construction management software keeps all records centralized and accessible so you don't have to go hunting.
Nothing is worse than a project that runs way over budget. Cost control is a key benefit of construction management tools. It aims to reduce the frequency of over-budget projects and costs that blindside you.
These benefits may sound vague, so let's get into specific goals for your organization that construction management tools can help make a reality.
Construction Management Tools Report
Expert recommendations and analysis on the top construction software
Implementation Goals
Goal 1

Streamlined Workflow and Increased Efficiency

Construction management tools take the many disparate processes of managing a project and brings them under a single roof. From the maintenance technicians to foremen and CEOs, all levels of an organization can reap benefits from construction project management software. The software lets managers allocate work to the correct team members efficiently, as well as track overall performance to identify pain points.

Goal 2

More Efficient, Organized and Accessible Communication

With construction project management, users can bridge the communication gap between departments through internal messaging systems and project updates. Software offers modules that keep track of changes, updates and stages of individual projects, encouraging smooth management and reducing opportunities for error. When managers use construction management tools, their projects become much more organized. This not only makes everyone's lives easier, but also makes it safer and easier to recreate for the next project.

Goal 3

Estimate and Monitor Risk, Cost and Potential Issues

Users can utilize construction management tools to assess, estimate and mitigate a variety of risks. From cost estimates to storing recommended procedures for different risk occurrences, construction tools help with these crucial tasks. This helps managers run a more profitable, more organized and safer project.
Construction Management Tools Report
Expert recommendations and analysis on the top construction software
Basic Construction Management Software Features
| | |
| --- | --- |
| Financial Planning | Construction management software offers a range of financial planning modules to help users estimate, manage and track expenditures. Cost estimate modules allow users to make more accurate estimates for different elements of their projects, reducing the likelihood that the project will have to grind to a halt due to funding shortages. It also tracks predicted and actual budgets, making the next project's estimates much more accurate. This software provides tax management and auditing modules to ensure your project is always above-board. |
| Materials, Inventory and Equipment Management | Material requirements planning modules combine materials purchasing, shipment scheduling and equipment tracking into a single intuitive interface. They monitor inventory, track shipments and alert users when stock runs low. |
| Project Management | Project managers can utilize the project management feature to delegate and monitor the big picture of their project, as well as the day-to-day tasks of their team members. This feature gives users insights into RFIs, change orders, committed costs and other crucial activities. Break large projects into manageable pieces with work breakdown structures and delegate tasks to the correct workers efficiently. |
| Risk Management | This feature lets managers predict financial risks like contractor delays or quality requirement failures, but it doesn't stop there. Users can also plan for external risks like environmental disasters, tax changes or public objections, so the emergency plan is always within reach. You can even access inspection tools on mobile devices to make safety checks and track any incidents onsite. |
| Document Management | Document management features allow users to send, receive, retrieve, scan, index, store and share business-related documents. Upload images, schematics and drawings to the system to allow collaboration and communication based on identical information. |
| Subcontractor Management | Manage contracts, track financial activity and delegate subcontractor tasks directly within the system so everyone is always on the same page. Users can communicate with subcontractors via the internal messaging system or set up automated text alerts to make sure they reach them at crucial moments. |
Construction Management Tools Report
Expert recommendations and analysis on the top construction software
Advanced Features & Functionality
| | |
| --- | --- |
| HR Integration | Whether you use Quickbooks or Workday Enterprise, you have to have some kind of software to manage your employees. Construction management tools either integrate with HR platforms or offer their own payroll and leave management modules. |
| CRM Integration | If your business utilizes CRM, you need a solution that can integrate with it. This lets users directly access contacts, sync meetings and appointments, and monitor all client interactions. |
| Reporting and Analytics | If you want as much control as possible over your project, business intelligence capabilities like reporting and analytics are a must-have. Advanced drill-down into the granular data of projects can highlight pain points and give users a comprehensive understanding of project progress. Use this to track objectives and get real-time updates of significant changes. |
| Field Management | Give your front-line supervisors the software they need to manage their employees efficiently. Field management features include crew-based field reporting that draws insights on crew performance patterns to help you optimize your whole team. Help them help themselves by creating punch list items in the field to see tasks through to completion. |
| Fleet Management | Products can offer a variety of useful fleet management features. This software helps keep vehicles in peak condition by scheduling preventive vehicle maintenance, which can be assigned to specific technicians to ensure the work gets done on time. Users can send automated communications via GPS with fleet management features, alerting drivers of schedule changes, hazards and other issues. |
Construction Management Software Report
Expert recommendations and analysis on the top construction software
Construction Software Selection
Every construction management tool offers a different combination of these functionalities and features, often with different focuses on each. To ensure you choose the right software for your organization, the first step is gathering your requirements. Identifying which features are most important to your unique situation helps narrow down vendors that do not meet your needs right off the bat. Start by asking yourself some of these questions to identify your goals:
Questions to Ask Yourself
What are the benefits I'm hoping to gain from implementing construction project management software?
What problems am I currently facing that I hope to solve with construction management tools?
What is my budget?
How will implementing software change my process for project management?
Do I want a cloud-based or on-premise deployment for this software?
What technology resources do I have to support your implementation of this product?
What other software systems (Payroll, CRM, ERP, etc.) do I need my construction management tools to integrate with?
Is my business growing? If so, how scalable do I need this system to be?
Compare Construction Software Vendors
Once you've done that, you may be interested in an in-depth feature comparison like this one our analysts have created. Understanding how different vendors are rated for different features can help identify which ones specialize in your needs.
This construction management software comparison should help you create a shortlist of several products that could potentially meet your needs. Reach out to each vendor — they'll be happy to talk to you, especially since you've already done such intensive research! Ask them if they offer trials, demonstrations or other programs for you to take their product for a test run. Demonstrations of the selected software will help screen out construction management tools that are lacking in key capabilities or are not sufficiently intuitive.
A detailed request for information (RFI) or request for proposal (RFP) will help guide the demos and discussions and formulate a gap analysis. The vendor responses will help you develop your business case for funding and essential executive support. If they don't offer a demo but you still think they might be a good fit, try to find video tutorials or demos online from other customers. It's absolutely crucial to see for yourself how the program works when someone is actually running it, and relying on previews or sales demos could result in the costly mistake of poorly matched software.
Read reviews of each vendor online from a variety of sources to get an idea for how current users like it. Make sure these reviews are up-to-date and from an unbiased, unpaid source.
Here are some questions to ask vendors when considering their product:
Construction Management Tools Report
Expert recommendations and analysis on the top construction software
Questions to Ask Construction Software Companies
What browsers is your product compatible with?
What mobile devices is your product compatible with?
How long does a typical implementation of your product take?
What support resources do you offer?
What ongoing or recurring fees should I expect?
How does this system encourage active improvement management?
What technology resources will I need to support your implementation of this product?
What other types of software and specific software products can this construction management software integrate with?
Is this system easy to use?
Is it scalable to the size I need it to be now or in the future?
Related Content
Final Thoughts
These steps will help prepare you to choose a construction management tool that is perfectly tailored to your unique business needs. Once you've gathered requirements, composed a list of questions and compared your list of vendors and requested demos, you'll have several options to choose from that all meet your needs. Get started on your construction management software selection journey right away to improve every aspect of your project management process.
49 Products found for
Construction Management Software
Our experts can help you shortlist the best software options for your organization's unique needs.
Call SelectHub for a
free 15-minute selection analysis:
1-855-850-3850
Pricing Guide
See the Price/User for the top construction management software… plus the most important considerations and questions to ask when shopping.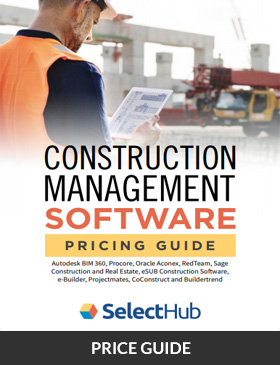 Real People... with Data
We know selecting software can be overwhelming. You have a lot on the line and we want you to make your project a success, avoiding the pitfalls we see far too often.
As you get started with us, whether it be with Software Requirements templates, Comparing, Shortlisting Vendors or obtaining that elusive Pricing you need; know that we are here for you.
Our Market Research Analysts will take calls, and in 10 minutes, take your basic requirements and recommend you a shortlist to start with.