Construction Management Software
SelectHub is real people helping you find the best construction management software for your unique business needs while recognizing the true software leaders who help make your decisions possible.
Products

Price Guide

Buyer's Guide
Construction Management Software Buyer's Guide
Last updated on
August 27th, 2020
Construction Management Software Is All About Organization and Control
By Hunter Lowe, Team Lead Editor and Market Analyst
Some of humanity's greatest achievements came from our ability to work together and construct awe-inspiring buildings. Construction projects are some of the largest, most vital undertakings we perform, and managing them can be an enormous task. Construction management software streamlines project management processes from start to finish and keeps operations from spiraling into chaos. Control and organization are king when you have multiple teams of contractors all working on unique aspects of projects scattered across geographically dispersed areas.
Executive Summary
Top construction project management software facilitates communication and collaboration between all departments and teams to ensure projects run smoothly.
The goal of construction management tools is to combine disparate segments of project management into a centralized interface.
Some goals for implementing construction management tools are increased efficiency in communication, risk management, budgeting and workflows.
To choose construction software that's right for you, you have to gather requirements, shortlist vendors, review potential matches and take products for trial runs.
What is Construction Management Software?
As we started to discuss in the opening of this buyer's guide, construction management software gives contractors, builders, subcontractors and any other vital team members the tools they need to optimize and streamline their workflows. These systems leverage everything from billing tools and bid management to quality and safety features to tackle all stages of a construction project. They also provide scheduling and labor management modules to ensure specific tasks are completed on time by the correct team.
All of these niche tools come together to form end-to-end systems that take a project from initiation to closure and delivery of the final product.
Deployment Methods
Selecting the right deployment strategy is key to a positive start with a new system. When it comes to choices, most systems are divided between cloud-based or on-premise options. It's worth mentioning that cloud-based systems are seeing massive upticks in adoptions over their on-premise counterparts, but each has its own pros and cons:
Cloud-Based Advantages
The cloud is taking the world by storm, and it's easy to see why:
Many cloud-based SaaS vendors offer subscription-based pricing models for their products. This low cost of entry makes the software accessible to smaller companies who can't drop large one-time investments.
No in-house IT experts are needed to maintain your systems. Your system provider handles all of the tech support, upgrading and service.
Scaling is easy with the cloud. If you need more storage space you can upgrade your plan to fit your business needs.
The cloud provides robust accessibility with mobile apps and the ability to access your information from anywhere with an internet connection.
Security is another process you won't have to worry about with the cloud. Providers have their own security teams that work to ensure your data security.
The cloud has numerous benefits that make it difficult to ignore. However, keep in mind that internet connectivity is required to access these systems. Not only that, but subscriptions can also add up over long periods of time.
On-Premise Advantages
While on-premise solutions may not be as popular, they do have some unique benefits to consider:
There's no need to always be connected to the internet if your systems are located on-premise. While you won't be able to share through the internet until you reconnect, you'll still be able to access the core features of your system.
Having hardware physically present provides customization opportunities that cloud-based software can't. On-premise solutions can be tweaked and customized to be a perfect fit, though changes do come at a cost.
The price tag associated with on-premise systems can be large, but you also only have to pay it once. There's no worrying about long-term subscription costs or following up on payments.
There are reasons to consider on-premise solutions, but their high cost of entry and upkeep considerations make them intimidating choices.
Construction Management Tools Report
Expert recommendations and analysis on the top construction software
Benefits and Advantages of Construction Management Systems
| | |
| --- | --- |
| Improved Visibility | Real-time visibility into construction processes is critical to an efficient and accurate project. Reporting and analytics tools help keep everyone from stakeholders and project managers to subcontractors in the loop while highlighting possible issues before they arise as expensive problems. |
| Automate Tedious Tasks | It's no secret that paperwork can pile up quickly during a construction project. Automation tools can remove time-consuming manual tasks from the picture and cut manual project and budgetary tracking out completely. Dropping lengthy manual accounting and project tracking tasks can free up team members for more important tasks. |
| Quick Task Assignment | Construction projects have numerous teams and tasks constantly overlapping up until completion. Construction management software helps project managers assign tasks ahead of time so everyone knows exactly when and where to be for every step of the operation. If certain tasks need immediate completion, managers can get the correct person or team on the job quicker than ever. |
| Overall Accountability | Construction management platforms help boost accountability through document control. Everything from change orders to RFIs are tracked by version through a central repository of all vital project documentation. This central source of documentation also ensures that everyone related to the project knows when an important update or change happens. |
| Increased Collaboration | Successful projects require clear channels of communication across the entire operation. Construction management tools can leverage the cloud to bring geographically scattered teams together. Today, project teams can submit designs and documents to their teams through the web for notes, markups, discussions and more. Mobile apps also help keep everyone up-to-date while also allowing data and project information submission on-the-go. |
Construction Management Tools Report
Expert recommendations and analysis on the top construction software
Implementation Goals
Goal 1

Streamlined Workflow and Increased Efficiency

Construction management tools take the many disparate processes of managing a project and brings them under a single roof. From the maintenance technicians to foremen and CEOs, all levels of an organization can reap benefits from construction project management software. These tools let managers allocate work to the correct team members efficiently, as well as track overall performance to identify pain points.

Goal 2

More Efficient, Organized and Accessible Communication

With construction project management, users can bridge the communication gap between departments through internal messaging systems and project updates. These systems keep track of changes, updates and stages of individual projects, encouraging smooth management and reducing opportunities for error. When managers use construction management tools, their projects become safer and more organized.

Goal 3

Estimate and Monitor Risk, Cost and Potential Issues

Users can utilize construction management tools to assess, estimate and mitigate a variety of risks. From cost estimates to storing recommended procedures for different risk occurrences, construction tools help with these crucial tasks. Monitoring actual versus estimated costs as project progress can head-off costly issues that would otherwise go unnoticed. Managing risk and staying on budget means faster project completion, happier clients and more bandwidth to accept and close out jobs.

Goal 4

Increase Agility and Scalability

As your teams grow and projects go from small, single location operations to larger, more complex undertakings, keeping track of it all without the help of software becomes near impossible. Disorganized firms that rely on old pen-and-paper organization and document tracking are prone to mistakes that could end in messy litigation. Construction software can manage large influxes of new employees, and scale up to take on big, multi-location jobs.
Construction Management Tools Report
Expert recommendations and analysis on the top construction software
Basic Features & Functionality
| | |
| --- | --- |
| Financial Planning | Construction management software offers a range of financial planning modules to help users estimate, manage and track expenditures. Cost estimate modules allow users to make more accurate estimates for different elements of their projects, reducing the likelihood that the project will have to grind to a halt due to funding shortages. It also tracks predicted and actual budgets, making the next project's estimates much more accurate. This software provides tax management and auditing modules to ensure your project is always above-board. |
| Materials, Inventory and Equipment Management | Material requirements planning modules combine materials purchasing, shipment scheduling and equipment tracking into a single intuitive interface. They monitor inventory, track shipments and alert users when stock runs low. |
| Project Management | Project managers can utilize the project management feature to delegate and monitor the big picture of their project, as well as the day-to-day tasks of their team members. This feature gives users insights into RFIs, change orders, committed costs and other crucial activities. Break large projects into manageable pieces with work breakdown structures and delegate tasks to the correct workers efficiently. |
| Risk Management | This feature lets managers predict financial risks like contractor delays or quality requirement failures, but it doesn't stop there. Users can also plan for external risks like environmental disasters, tax changes or public objections, so the emergency plan is always within reach. You can even access inspection tools on mobile devices to make safety checks and track any incidents onsite. |
| Document Management | Document management features allow users to send, receive, retrieve, scan, index, store and share business-related documents. Upload images, schematics and drawings to the system to allow collaboration and communication based on identical information. |
| Subcontractor Management | Manage contracts, track financial activity and delegate subcontractor tasks directly within the system so everyone is always on the same page. Users can communicate with subcontractors via the internal messaging system or set up automated text alerts to make sure they reach them at crucial moments. |
| Bid Management | Managing the preconstruction process speeds up taking a project from bid to close. These features help bid managers convert more bids into subcontracts, streamline big package creation and discover the best bid options for every project. Bid management tools can quickly create custom bid forms, track communications and contacts, provide subcontractor portals and display accessible project calendars. You can also set up pre-qualifications to immediately narrow the possible pool of contractors to those that possess the required skills and certifications. |
| Timesheets and Scheduling | Scheduling tools help ensure that the required personnel and resources are present at the right locations and times to keep the project moving. Automation can leverage scheduling and progress data to give users an estimated completion date. Timesheets track and store team members' worked hours for accurate payment and labor tracking. |
Construction Management Tools Report
Expert recommendations and analysis on the top construction software
Advanced Features to Consider
| | |
| --- | --- |
| HR Integration | Whether you use Quickbooks or Workday Enterprise, you have to have some kind of software to manage your employees. Construction management tools either integrate with HR platforms or offer their own payroll and leave management modules. |
| CRM Integration | If your business utilizes CRM, you need a solution that can integrate with it. This lets users directly access contacts, sync meetings and appointments, and monitor all client interactions. |
| Reporting and Analytics | If you want as much control as possible over your project, business intelligence capabilities like reporting and analytics are a must-have. Advanced drill-down into the granular data of projects can highlight pain points and give users a comprehensive understanding of project progress. Use this to track objectives and get real-time updates of significant changes. |
| Field Management | Give your front-line supervisors the software they need to manage their employees efficiently. Field management features include crew-based field reporting that draws insights on crew performance patterns to help you optimize your whole team. Help them help themselves by creating punch list items in the field to see tasks through to completion. |
| Fleet Management | Products can offer a variety of useful fleet management features. This software helps keep vehicles in peak condition by scheduling preventive vehicle maintenance, which can be assigned to specific technicians to ensure the work gets done on time. Users can send automated communications via GPS with fleet management features, alerting drivers of schedule changes, hazards and other issues. |
Construction Management Tools Report
Expert recommendations and analysis on the top construction software
Construction Management Industry Trends
More Mobility
An increase in mobile-focused applications means that managers can be on the job with full access to their system's features. Project leads can be more hands on with their operations without sacrificing the ability to view real-time data, leave design notes and coordinate their construction teams. According to a recent survey, 75% of construction companies gave their field and project managers mobile devices to stay connected while onsite.
Wearables
Wearable tech is also expected to see increases in usage as time marches on. A recent study estimates that nearly 33% of contractors will be using wearable technology in the next two years. These items can give project managers real-time visibility into the productivity, efficiency and safety of their construction teams. Items like augmented reality enabled goggles can provide construction professionals with valuable on-the-spot information.
Increased Cloud Adoptions
The construction industry isn't the only one seeing more businesses turn to the cloud. However, it has much to gain from adopting cloud-based technology. Digitization turns messy pen-and-paper strategies into accurate, streamlined and efficient processes. Not only that, but they are easy to implement, come with affordable subscription-based pricing and can scale up with your business as it grows. When nearly 38% of construction companies say a lack of IT support is what is keeping them from adopting software, the cloud's simplicity becomes even more attractive. Adopting the cloud takes IT out of the equation and breaks down any barriers keeping you from adopting a construction system.
AI and Machine Learning
Artificial intelligence is becoming commonplace in most construction management systems. These tools help give you real-time data and insights into your end-to-end processes to speed up and enhance your decision-making processes. They also shine a light on any weaknesses or inconsistencies in your projects so that you can take corrective actions. Automation can help with scheduling, KPI tracking, financial management and much more. Who could say no to better estimations and overall cost cutting for every project?
Construction Management Tools Report
Expert recommendations and analysis on the top construction software
Cost & Pricing Considerations
There are a few things to keep in mind about how construction software is priced. Mainly, you'll want to nail down your preferred deployment strategy as that is where most of the costs lie. While cloud-based systems typically offer affordable subscription plans, they often go up in price depending on how many active users you need. There is also a chance that the software could charge by a certain number of projects, so keep an eye on how many people/projects you need before signing up.
You should also take a look at support options, some vendors offer different types of support package tiers. Depending on your specific requirements the support you need could add to the final price of the system.
It's also not uncommon for vendors to offer pricing tiers tied to features. Enterprise tiers usually include the most options but also come with the priciest plans.
The Best Construction Management Software
Wading through the market of construction management systems can be overwhelming. Take a look at our SelectHub analyst curated list of the top performers on the market today to get started on the right foot:
Autodesk's BIM 360 is a unified platform with real-time data visibility and automated documentation processes. Its features include document management, safety management, collaborative tools, analytics, cost management and more. Teams can share designs to the whole team for notes, re-designs and more.
There are numerous optional modules available, including BIM 360 Docs, Design, Build, Glue and more. This system also includes numerous integrations with other third-party applications.
Procore's platform works with operations of all sizes with a focus on project, financial and resource management. Project owners can gain valuable visibility into all of their ongoing projects, general contractors can leverage scheduling and budgeting tools and specialty contractors can boost their teams' efficiency with collaborative tools.
Available with on-premise and cloud-based solutions, Procore supports all major platforms.
RedTeam's platform can be deployed in-house or through the cloud and supports both Android and iOS mobile applications. Built to integrate easily with other systems like Autodesk, Plangrid Docusign and more, users can hold onto their favorite workflows.
Daily reports give project managers an up-to-date view of overall project completion and highlight possible issues before they become costly problems.
Aconex offers both cloud-based and on-premise solutions while boosting collaboration, increasing visibility, managing risk and improving overall project control. Its common data environment ensures that all relevant data is disseminated throughout the project.
It supports secure document management, integrated cost management, dashboards, analytics, safety and quality management and more.
Sage 300's cloud-based integrations help connect all aspects of a project through one easily accessible location. This system is suitable for operations of all sizes and includes several accounting modules to help manage financial processes.
This system supports features like risk, document, real-estate and project management. Its tools are scalable so users can tackle operations of all sizes.
As tempting as it may be to call up the top performing software suite and get integration going, be sure you ask yourself and your vendors some questions before moving forward.
Construction Management Tools Report
Expert recommendations and analysis on the top construction software
Questions to Ask Yourself
The best place to start when trying to nail down how to approach a new system are your own teams and operations. Getting a handle on what you and your team need to function at maximum efficiency is key to finding a fitting solution:
What are the benefits I'm hoping to gain from implementing construction project management software?
What problems am I currently facing that I hope to solve with construction management tools?
What is my budget?
How will implementing software change my process for project management?
Do I want a cloud-based or on-premise deployment for this software?
What technology resources do I have to support your implementation of this product?
What other software systems (Payroll, CRM, ERP, etc.) do I need my construction management tools to integrate with?
Is my business growing? If so, how scalable do I need this system to be?
Questions to Ask Construction Management Software Vendors
Once all of your soul-searching is complete, it's time to take some questions to your short-list of vendors. Asking probing questions about how they and their systems operate can give you a better idea of what your partnership with the vendor could look like:
About the Software
Is it scalable to the size I need it to be now or in the future?
Is the interface accessible?
What other types of software and specific software products can this construction management software integrate with?
About the Vendor
What other types of software and specific software products can this construction management software integrate with?
What ongoing or recurring fees should I expect?
What browsers is your product compatible with?
What mobile devices is your product compatible with?
How long does a typical implementation of your product take?
What support resources do you offer?
How does this system encourage active improvement management?
Construction Management Tools Report
Expert recommendations and analysis on the top construction software
In Conclusion
Integrating construction management software is vital for businesses looking to scale and remain productive while accepting as many projects as possible. It's also important to spend enough time discovering your requirements and what problems your new system needs to solve. This guide was built to help users start their software journey armed with knowledge. Happy selecting!
Additional Resources
53 Products found for
Construction Management Software
Our experts can help you shortlist the best software options for your organization's unique needs.
Call SelectHub for a
free 15-minute selection analysis:
1-855-850-3850
Pricing Guide
See the Price/User for the top construction management software… plus the most important considerations and questions to ask when shopping.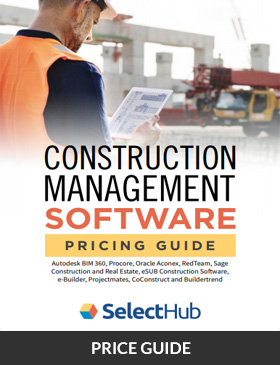 Real People... with Data
We know selecting software can be overwhelming. You have a lot on the line and we want you to make your project a success, avoiding the pitfalls we see far too often.
As you get started with us, whether it be with Software Requirements templates, Comparing, Shortlisting Vendors or obtaining that elusive Pricing you need; know that we are here for you.
Our Market Research Analysts will take calls, and in 10 minutes, take your basic requirements and recommend you a shortlist to start with.