Business Analytics Software Comparison
SelectHub is real people helping you find the best business analytics software for your unique business needs while recognizing the true solution leaders who help make your decisions possible.
Products

Price Guide

Buyer's Guide
Business Analytics Tools Buyer's Guide
Last updated on
July 21st, 2020
The Best Business Analytics Software Gives Users Actionable Knowledge Through Data
By: Louis Columbus, Technology Author and Expert
Smart business software is smart business. Business analytics software helps users optimize their business practices by making data-driven decisions. It collects, organizes, visualizes and extrapolates data taken from your organization's operations to explore trends and make predictions. BA is an offshoot of business intelligence focusing on how to apply your findings from your data.
Executive Summary
The best business analytics software gives businesses a competitive edge when making decisions by offering proven data
With the insights gained from business analytics, companies can make better decisions to increase sales, improve operations and become more profitable.
Before selecting BA software, you need to form a checklist of requirements and questions to vet vendors from your list of business analytics software
Business analytics is a rapidly growing industry that will have a significant impact on your organization if properly implemented
Business analytics software benefits provide a range of useful functions for your organization. Here are just a few:
Helps users measure operational, financial and selling performance against their goals
Allows you to gain greater insight into why customers buy which products and when
Determines the best possible marketing campaigns and promotions to increase sales
Helps users find out which customers are most and least likely to buy a new product
Helps sales reps successfully upsell and cross-sell customers on products
Get a steady stream of descriptive statistics on operations performance of a company
Predicts when machines will need to be repaired and spare parts ordered
Determines the best possible price for a product given its competitors and market demand
Tracks supply chain performance to see what's working and what isn't
Tracks supplier quality levels with dashboards and discovers which are the best
Helps users better manage selling and distribution networks by offering greater visibility into sales
Predicts the optimal price for services
Improves eCommerce and online selling strategies by providing the best mix of products
Helps sales teams meet their quotas by understanding where they need to focus
Improves customer satisfaction by measuring which services programs are working and which aren't
Business Analytics is Big Business
The global business analytics software and services worldwide revenues will grow from nearly $122 billion in 2015 to more than $187 billion in 2019, an increase of more than 50 percent over the five-year forecast period according to International Data Corporation. Just the cloud-based business analytics market size will be worth $4 billion in 2017, growing at a faster compound annual growth rate than the rest of the market through 2019.
Analytics is quickly progressing beyond providing a rear-view mirror of what happened in the past to companies and provides a more predictive glimpse into the future. There are a wide variety of solutions, and all of them share a common set of business analytics features that enable them to provide descriptive, predictive, prescriptive and cognitive analytics.
The most advanced enterprise analytics software includes support for Big Data analytics that relies on large-scale data sets. Some are already supporting machine learning algorithms that seek to find the best possible answer to complex business questions, often hidden in these large-scale data sets. The entire area of business analytics is proliferating today, and there is an abundance of innovation in this field, so be sure to evaluate more than just a handful of business analytics vendors when choosing a solution.
Business Analytics Software Report
Expert recommendations and analysis of the top Business Analytics Software
Business Analytics Software Implementation Goals
Improve Business Performance with Greater Insights
Business analytics can provide a wide range of ways to view your company's operations, ranging from descriptive statistics to suggestions for how best to optimize the performance of your supply chain. Analytics can also provide useful insights into how your overall business is functioning from a financial standpoint, showing how production is impacting revenue, costs and profits. There is a wide variety of business analytics in use today, limited only by the types of measurements of performance (sometimes called metrics or KPIs) that are available in business analytics systems.
Better Understand and Serve Customers
Imagine being able to understand who your customers are, what they are buying, why and when they will buy again, and then predicting which approaches will work best to service them? Business intelligence and analytics applications are capable of providing all these insights about customers in addition to helping businesses understand what their ideal customer is. The best predictive analytics tools, part of business analytics, build propensity models that provide insights into customers' intentions and behaviors, helping companies define the best possible approach to selling more and delivering more value.
Know Which Areas of Your Business to Improve First

Every business has areas of strength and weakness, and analytics are very powerful in understanding which of the areas any company needs to improve. Often, senior management has rough data or evidence that a given area is in trouble. But business analytics can take that intuition and evidence of a problem, pinpoint exactly what is wrong, and provide insights into how best to fix it, making data-driven decisions a reality.

This is how business analytics can revolutionize a company and help maintain its profitability, generating revenue over time. Senior management teams often use business analytics to track areas they suspect may be struggling. It is common for senior management teams to regularly review metrics and KPIs of these areas and make sure overall company performance is on track. In this way, business analytics becomes an early warning system to senior management regarding given areas needing attention, working to reduce inefficiency and mistakes.

See How One Area of Your Business Impacts the Other

For many companies, it's easy to get into a siloed view of each area of the business without seeing how each area impacts the other. Current accounting and reporting systems in many companies reinforce this siloed view of business, making it that much more difficult to see how tradeoffs impact various sides of the business. Business analytics that can span across departments, divisions and processes are enabling a more accurate view of overall company performance that was not possible before.

Advanced business analytics applications also are capable of providing customized metrics and KPIs for tracking individual process performance. Management teams use these to track specific processes that rely on the orchestration of several departments. An example of this is tracking order management and fulfillment and then determining how this process can be improved by automating and streamlining reporting from each department involved.

Predict How Successful Programs and Products Will Be
Often, companies launch products or new programs and are not completely sure if they will succeed or not. By combining business analytics and market research techniques, companies can find out which programs and products have the greatest probability of success. This is critically important from a business operations standpoint, as having this information generated from business analytics can help define forecasts for suppliers, determine how best to scale the company to manage the impact of the programs and products' activity, and help plan further strategic steps.
Business Analytics Software Report
Expert recommendations and analysis on the best Business Analytics Software
Key Business Analytics Software Features to Consider
| | |
| --- | --- |
| Self-Service Data Preparation | Advanced business analytics solutions are beginning to shift from catering to IT to focus on business analyst needs. One of the most powerful benefits coming out of that shift is the jump in self-service business intelligence and data preparation workflows and usability. This area is flourishing right now in business intelligence and business analytics and will continue to grow as open-source programming languages including AngularJS become more pervasively adopted. All of this is very good news for companies looking at new business analytics apps as the usability continues to improve and interactive visualization tools and views become standard. |
| Natural Language Query and Search | The largest vendors in the BA space already have this capability, while the mid-tier and smaller business analytics companies are investing in creating or partnering with companies that offer this functionality. This is critically important for organizations that have a wide variety of data sets based on complex, distributed business models comprised of hundreds or thousands of products. For service-based businesses, this is also essential as it can drastically reduce the time it takes to complete queries. |
| Ease of Use and Responsive Design, Including Dashboards | As business intelligence and analytics vendors have shifted their emphasis on application design to the needs of business analytics first, ease of use and support for responsive application designs that scale for any device is now a reality. AngularJS, HTML5 and advanced programming languages that business analytics vendors are using today ensure that mobile, tablet and laptop application performance will be fast, accurate and customizable to your needs. Be sure to ask to see product demos about creating a dashboard, metrics, key performance indicators (KPIs) and workflows for tracking common business processes. Also, ask to see the demo run on a smartphone, and that will show just how responsive the design is for the business analytics app you are evaluating. The bottom line is that the workflows should all be orchestrated to a common series of dashboards that can quickly be updated through inbound data integration streams, ensuring you have an accurate, up-to-date view of your business. |
| Ease of Cloud and Legacy Data Integration | The key to getting the most value out of a business analytics application is the support it provides for integrating with cloud and legacy-based databases, datasets and systems. Cloud-based business analytics vendors often rely on a set of application programming interfaces (APIs) to enable more efficient integration of their platforms and applications with the cloud, legacy and third-party applications. If your company has a wealth of data and is also using cloud-based, legacy on-premise and third-party data, be sure to ask your business analytics vendor if they have an API strategy in place. This area is pervasively covered in high-end business analytics platforms. It is also referred to as Extract-Transform-Load (ETL), where the business analytics application extracts data from databases, cloud, legacy on-premise and third-party systems. |
| Cadence of Application Updates | The level of innovation intensity in business analytics today is unlike any other area of cloud and enterprise software today. True cloud-based business analytics products will have quarterly releases, achieving a cadence of four releases a year. It's becoming so competitive that on-premise business analytics vendors have to issue more updates to their applications to stay in step with their cloud competitors. This competitive dynamic between cloud-based and on-premise vendors benefits end-users because there is a continuous stream of new features. A true cloud-based business analytics vendor will have four major releases a year and also provide you with periodic updates that deliver even greater value. |
| Customer Service and Support | There needs to be an escalation path provided by support accessible online, in addition to a knowledge base that provides responses to common questions. Ideally, there also needs to be remote automated agents on the website of the business analytics vendors you're considering. Data analytics software is becoming increasingly self-service oriented, with vendors hoping their applications will be as intuitive as possible. In complex scenarios including integration and ETL, it's imperative to get support and guidance. |
| Security and User Administration | Cloud-based business analytics vendors often have more robust security models than their on-premise counterparts, and the latter are easier to hack while on a company's internal systems. Security and user administration, at a minimum, needs to include role-based authentication, support for selective workflow and resource assignments, and administrative control over auditing and traceability. Security also needs to include advanced authentication and verification techniques, as well as full backups of all data on a regular basis. |
Business Analytics Software Report
Expert recommendations and analysis of the top Business Analytics software
How to Perform a Business Analytics Software Comparison
Selecting the best possible business analytics system for your company needs to begin with a clear series of objectives that encompass the core strengths of your business from an analytics and reporting perspective. Analytics has the potential to revolutionize the performance of any company, so it's important to get started with a solid set of questions and a framework to determine which business analytics platform, solution or application is best for your needs. There are hundreds of business analytics providers selling systems today. The process can seem daunting, but there are some great resources below to help you gather requirements, compare business analytics software vendors and find the perfect fit for your organization.
Business Analytics Software Requirements Gathering
Every business has a special set of needs, so the first step in a software selection project is to create a checklist of what your company needs most from a business analytics system. There are hundreds of criteria to choose from, but the framework can be broken up into five main categories:
Analytics Dashboards
All business analytics applications today include support for basic dashboards, yet the most valuable have the flexibility to define metrics or measures of performance that are specific to your business. Ask to see how dashboards can be shared in a secured area of the application and check to make sure the dashboards support responsive design, meaning it is optimized to look and function correctly on any device. Analytics dashboards are often bundled with advanced data visualization tools as well.
Data Source Connectivity Including API Support
This is critically important for scaling a business application and enabling it to meet as many unique needs as possible. The greater the number of integration points supporting a business analytics system, the higher the potential for a positive return on investment. Data source connectivity and API integration also need to focus on how the data will be imported from the legacy third-party systems to the business analytics application. Often, there are shell scripts created that regularly query a specific location or subdirectory and move files into the business analytics application working directories. Advanced technologies include ETL, where data is extracted from individual files.
Interactive Visual Exploration
Best-in-class business analytics applications include interactive visual exploration functionality that makes it possible to query datasets and navigate through their representations in real time. For companies that have thousands of products in their catalog, this is a must-have feature as it allows for aggregation and easier analysis of product sales data. Interactive visual exploration is also used to complete contextual analysis of data sets and present them in meetings to simplify complex concepts. As companies using business analytics mature, this business analytic feature becomes increasingly important.
Self-Service Data Preparation
Preparing data for use in any business analytics application needs to be self-service. This will drastically reduce the time required to populate dashboards and glean value from data. The shift away from building business analytics applications for IT to manage them so business analysts can get work done quickly is also fueling more support for self-service data preparation. From the relatively simple routines of importing data files to more advanced ETL workflows, business analytics applications are often differentiated by how pervasively they support this feature. It is a must-have in any enterprise that utilizes legacy systems and databases that need to be included in the business analytics application.
Data Security and User Administration
Being able to define security rights by role is fundamental within any business analytics application today. At a minimum, there needs to be support for creating role-based access and defining profiles for various types of business analytics software users. The administration function also needs to support the customization of each user's online experience, in addition to defining which features will be enabled for each user. There needs to be auditing and traceability of system events on the control panel as well, including support for configuring third-party add-on modules or applications that are needed. All of these functions will ideally be cloud-based in order to enable administrators to manage a broad base of users quickly and without constraints.
Business Analytics Software Report
Expert recommendations and analysis of the best Business Analytics software
Questions to Ask During Business Analytics Demos
First, it's important to address your organization's needs from a BA system. Here are some questions to ask yourself when choosing business analytic software:
How could your current approach to managing data reporting and business analytics be improved?
What are the biggest challenges you face with your existing approach to data reporting and business analytics?
Which metrics and KPIs have you been looking into that you would like to include in your new data reporting and business analytics system?
What's the current budget for your business analytics system and what's the operating budget?
Is your company considering an on-premise or cloud-based business analytics system?
What devices will the business analytics system need to run on throughout your company?
Are you considering having dashboards shareable by role across the executive and management teams of your company?
How much customization do you expect your business analytics system will require before installation?
What support or training will the vendor provide during and after installation?
You should also have key questions and concerns for vendors prepared beforehand to ensure you understand what each different BA system can do for you, as well as if it fits your needs. Here are some questions and expectations to present a vendor:
What's the workflow for creating a new dashboard and populating it with metrics and KPIs?
This workflow will show how effective the business analytics system is at producing the most commonly used area of any business analytics system: the dashboard. Be sure to ask for specifics of how metrics, KPIs and information sources are integrated into the dashboard workspace, what the latency or speed of updates are, and how dashboards can be modified in the future to support new metrics.
How can I publish analytics content without paying more?
Instead of paying for an extra module or feature to print from your business analytics application, ask to see the baseline app produce all the reports you need. There is a wide variety of publishing options for business analytics reporting software today, and it's best to make sure every report option and potential workflow are covered in a product demo before you purchase the application. It's also a good idea to check and make sure the business analytics system supports responsive design so it can scale across every device, delivering excellent performance on each.
How does interactive visualization work and does it require additional software?
This is an area where the majority of business analytics applications are attempting to differentiate themselves by building in basic interactive visualization capability. Ask to see a demo of what the baseline application can provide, but also ask about what additional modules or add-ons are required to get advanced data visualizations. Also, ask if the demo can include your company's data to see how and if this feature of business analytics will deliver value to your company.
Does the software integrate data from multiple departments?
When you can combine information from different areas of the business, you can analyze factors like how much the latest new product development costs and how they are impacting revenues and profits. Using business analytics, it will be possible to view the impact of business strategies across all operations. Ask to see a demo of how the new product development and launch process can be tracked in the business applications you are interested in.
Will it grow with my business?
If you're investing in a business analytics system, you don't want it to be obsolete in a year. Plan to implement software that will last at least ten years. The business analytics system you select for your business needs to be scalable. Find out what the limitations are on the scale and reporting capabilities of your system so you can make the best decision about whether the software is right for you.
Final Word
Choosing a business analytics software provider is a task that should be given serious consideration. This data analytics software comparison is meant to be used as a starting point and tutorial to guide IT professionals who are tasked with making this decision toward finding the top business analytics software for their needs. Check out our pricing guide to find out which BA vendors are in your price range.
Business Analytics Software Report
Expert recommendations and analysis of the top Business Analytics software
121 Products found for
Business Analytics Tools
Our experts can help you shortlist the best software options for your organization's unique needs.
Call SelectHub for a
free 15-minute selection analysis:
1-855-850-3850
Comparison of Business Analytics Tools Leaders
Below are the Top 10 Business Analytics Tools for each of the main software evaluation categories as determined from in-depth analysis and user satisfaction from across the Internet.
GET THE IN-DEPTH REPORT
Pricing & Cost Guide for Business Analytics Software
See the Price/User for the top Business Analytics software … plus the most important considerations and questions to ask when shopping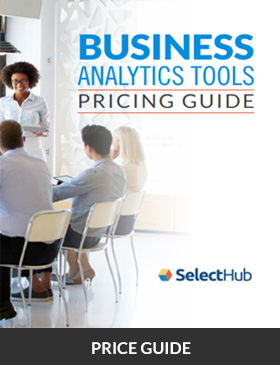 Real People... with Data
We know selecting software can be overwhelming. You have a lot on the line and we want you to make your project a success, avoiding the pitfalls we see far too often.
As you get started with us, whether it be with Software Requirements templates, Comparing, Shortlisting Vendors or obtaining that elusive Pricing you need; know that we are here for you.
Our Market Research Analysts will take calls, and in 10 minutes, take your basic requirements and recommend you a shortlist to start with.